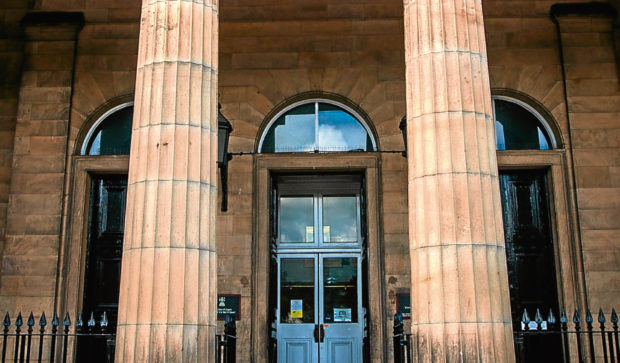 A motorist who cut up another car claimed he was trying to alert the driver to the fact he had forgotten to put his lights on during a period of thick fog.
Steven Dickie tailgated a Peugeot 307 being driven by Stephen Soutar, before roaring past and veering in front of him.
The incident happened on the A926 between Kirriemuir and Blairgowrie.
Depute fiscal Michael Sweeney told Perth Sheriff Court: "At about 1pm the witness was driving his vehicle between Kirriemuir and Blairgowrie.
"At this time he observed the accused's vehicle behind him and noted it was close to the rear of his car. He believed the driver was positioning to carry out an overtaking manoeuvre.
"There was thick fog and the witness believed it would be dangerous to carry out this manoeuvre. Shortly after Westmuir the vehicle overtook the witness and pulled directly in front of him, which caused him to brake sharply.
"Due to the nature of the driving the witness contacted police."
Mr Sweeney added that when confronted by police Dickie had told them: "He was driving in fog with no lights on and the passenger side brake light out. I didn't tailgate him – I passed him and he gave me the middle finger out the window.
"I overtook him and gave him a gap. I slowed down and he overtook me."
Solicitor Linda Clarke, defending, said the 23-year-old needed his licence to carry out his job as a tyre fitter.
She said: "He came across the vehicle with no lights whatsoever and flashed his lights a couple of time to attract his attention.  He accepts in doing so that he may have driven too close to the rear of the vehicle.
"He overtook and turned his own lights on and off to try and tell him but accepts he may have pulled in too sharply. His intentions were good in the long run."
She added that Dickie had three points on his licence, and a disqualification would be "catastrophic" for his employment.
Dickie, of Hillrise, Kirriemuir, admitted driving carelessly on the A926 near Westmuir, by driving too close to the rear of Mr Soutar's car before overtaking and immediate braking in front of his car on November 20 2016.
Sheriff William Wood fined Dickie £540 and imposed six penalty points.