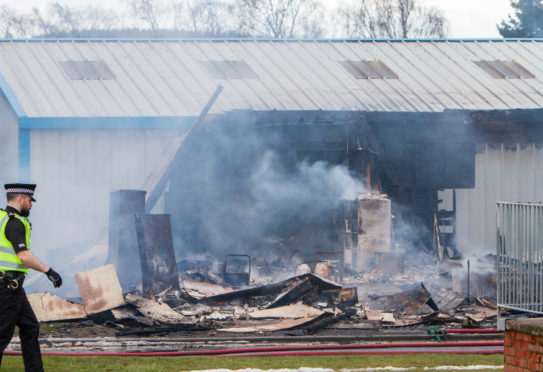 Police say a blaze that burned a Perth auctioneers to the ground was started deliberately.
Detectives have declared the charred shell of the Iain M Smith Auctioneers building at Perth Airport a "scene of crime" and are appealing for information from the public.
Iain Smith, 54, who runs the business, has revealed the fire destroyed sale items worth between £30,000 and £40,000.
He said he was struggling to come to terms with the notion that the fire, which broke out around 12.20am on Friday, was started on purpose.
He said his main focus was on contacting customers who had lost items which had been due to go under the hammer on the day of the fire.
"I've been walking through the ashes of the building this weekend and it's awful," he said.
"To be honest I'm really gutted by what happened. I don't want to think about the fire being started deliberately — I have to remain focused on being positive and helping our customers."
The area surrounding the auction house remained cordoned off at the weekend. Police Scotland are conducting a joint investigation along with the Scottish Fire and Rescue Service.
It took firefighters almost five hours to bring the blaze under control.
'Devastated' Perth auction owner vows to fight on after major blaze
Mr Smith said he would be working with customers and his insurers to make sure no one was left out of pocket.
"We've lost the details of some of our customers through the fire but the main thing we're looking at is reparation for people who had items for sale at the auction," he said.
"We will be doing everything that we can to make sure that no one loses out on the value of items entered for sale. We have photographs and can value all lots in the sale. We will do everything we can to recompense everyone
"The insurance company have been brilliant and although the paper work is a minefield we are working our way through things and we will get there."
Mr Smith praised several businesses based at the Scone aerodrome who have offered to provide storage space.
He said his goal was to be back in business in a new building in around six months' time.
"At the moment we are operating from a temporary office adjacent to the old building but will be moving into a brand new office shortly, courtesy of Morris Leslie," he added.
"Our customers can't come here just now unfortunately, as the area is still cordoned off, but they can get in touch through our website.
"We're planning on building a new building on the same site which we hope to have open in about six months.
Police have asked anyone who saw any suspicious activity in the area of Perth Airport at any point during the evening of Thursday into Friday to contact them on 101.