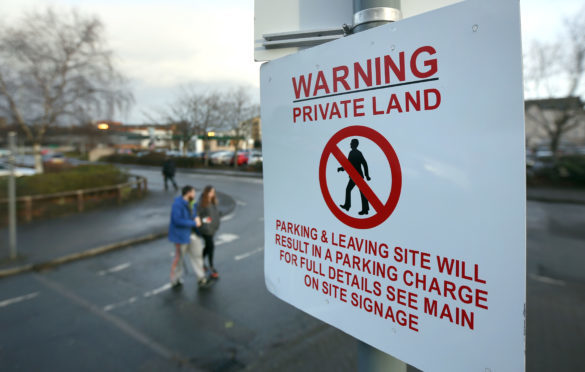 A wildly unpopular parking policy which saw Perth shoppers fined for straying too far from their cars has been ditched in the face of widespread opposition.
The bizarre rule was introduced at part of the city's St Catherine's Retail Park last year and has been branded "absurd" by politicians.
Unwary drivers were slapped with £100 penalties for walking out of the car park – even if they went just a few yards to use a cashpoint in another part of the same precinct.
Site attendants armed with cameras were tasked with gathering evidence against motorists by taking photographs of them leaving the site.
Leeds-based Moorgarth, which manages the site stretching from Wickes to Tile Giant, has revealed it will axe the scheme later this month.
In correspondence seen by The Courier, the company's head of facilities Christian Dalby states: "We implemented the current enforcement after complaints from our occupiers that people were parking and walking into town to continue shopping.
"On occasion, these vehicles were parked for the whole day and we suspect they were commuters working in central Perth."
He said the "no walking off site" regulation was meant to "ensure genuine customers".
The company will soon introduce number plate recognition cameras which will be "time restrictive, rather than location specific". Mr Dalby said: "As a result, customers of our retail park can enjoy two hours of free parking. This will be irrespective of whether this time is wholly or partly spent on the retail park."
The changes and new signs are expected to be introduced later this month.
Perth and North Perthshire MP Pete Wishart welcomed Moorgarth's "change of heart".
He said: "Their 'no walking off site' arrangements were totally unacceptable and led to a large number of complaints from customers being 'fined' for parking in one part of St Catherine's retail park and using services in other parts."
The SNP MP added: "What was worse was that privacy was being compromised by car park attendants photographing customers and their vehicles to 'prove' this 'crime'."
Mr Wishart, who has been leading a campaign against private parking companies following scores of complaints about the Kinnoull Street multi-story, said: "Everywhere in Perthshire, private car park operators and owners of private sites are beginning to feel the heat from customers, furious at being ripped off and treated appallingly."
A Westminister private parking bill, which Mr Wishart has backed, will soon move to the committee stage as a new code of conduct is thrashed out.
"As this continues to progress, I hope we will see more of these sorts of improvements," he said. "It is best that those involved in charging for parking on private land amend their practices voluntarily rather than having it forced on them through legislation."