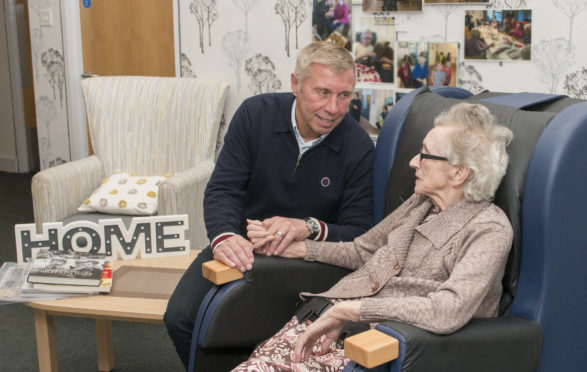 A Perth care home for the elderly is to be closed despite a passionate campaign to save it.
The controversial decision to close Beechgrove to save £528,000 a year prompted two councillors to walk out of the meeting of the Perth and Kinross Integration Joint Board, claiming they had been refused the right to vote how they wanted.
The meeting descended into turmoil when board chair Linda Dunion ruled amendments to retain Beechgrove were incompetent as they did not outline how savings could be achieved.
Councillor Eric Drysdale described the move as "a democratic outrage".
The SNP councillor had spoken passionately for the retention of the 18-bed care home arguing the saving in the context of the overall care budget was insignificant and that to close the home was shortsighted.
"There is going to be a population explosion in this city," said Mr Drysdale.
He maintained that to close a local authority home left care home provision in the hands of the private sector where many operators were struggling.
"We took these elderly people into care and morally and ethically in my book that was a lifetime contract," he said.
"Closure of Beechgrove would have a profound and adverse effect on the elderly."
Fellow board members, Conservative councillor Crawford Reid  and Independent councillor Xander McDade, gave their full backing to Mr Drysdale's stance.
Both said Beechgrove provided "exemplary care"  and Mr Reid said to close it and move the elderly people to new homes would be "a profound anxiety" for everyone involved.
After a lengthy debate board chair Linda Dunion moved the closure of Beechgrove and the retention of Parkdale home.
Mr Drysdale moved an amendment that the status quo be maintained and both homes be kept open but Mrs Dunion ruled this incompetent.
Mr McDade then moved that Beechgrove be kept open for the coming year and the costs met from the council's social care budget, but this was also ruled incompetent.
When Mrs Dunion asked who did not back closure and only the three councillors indicated they were opposed, she said that a majority of the board were in favour.
Mr McDade and Mr Drysdale then walked out of the meeting and said they would be "reflecting" on their future serving with the board.
"It was absolutely undemocratic not to have a vote on something as important as this," said Mr McDade.