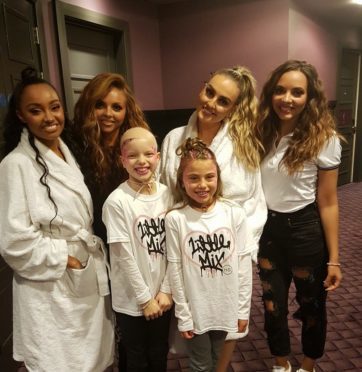 A brave 10-year-old Perth girl has set off for America to have pioneering cancer treatment.
Lily Douglas left Edinburgh Airport on Saturday with her mum, Jane and grandmother Mary, bound for Jacksonville in Florida.
Before jetting off, the family thanked everyone who had made the trip possible by raising funds for the proton therapy, which is not available in the UK.
Keen dancer Lily, who is a member of the JGN Dance Attic studio in Perth, has Ewing's sarcoma, an aggressive form of bone cancer.
She has already had surgery to remove a shoulder blade following extensive treatment at the Edinburgh Sick Children's hospital.
Lily was diagnosed with the cancer 12 months ago but has impressed everyone with her determination and positive spirit.
The St John's RC Primary School triumphed in a solo dance category at the UDO Scottish Street Dance Championships last summer – just two days after having her fourth round of chemotherapy.
And she was delighted when she met her idols Little Mix when the band played the Slessor Gardens in Dundee in June last year.
Prior to flying over to America, her mum, Jane, 47, said: "Lily will undergo proton therapy in Florida for eight to 12 weeks. Proton therapy is a type of radiation treatment that uses protons to treat cancer.
"It's also called proton beam therapy. A proton is a positively charged particle, which at high energy, can destroy cancer cells."
Jane continued: "It's the latest part of her treatment and, hopefully, it will be the last.
"This is a big step and the treatment in Jacksonville is the best. It targets the tumour and breaks it up.
"The treatment Lily is getting isn't around in Britain and we are able to go to America thanks to the funds raised for Lily."
The JGN Dance Attic has a show at Perth Concert Hall on June 23 and Lily is aiming to be back in time so she can take part in it.
And if she is well enough, she is hoping to squeeze in some dance practice in America.
Jane added: "Although we are going to Jacksonville for treatment, we are hoping Lily will be well enough to fit in some routines at a local dance school.
"Her dancing has been a big boost to her.
"She just loves it, and being able to dance when she is well enough has been great for her."