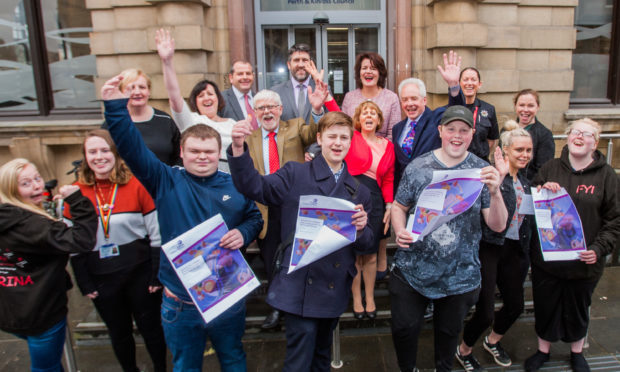 Inspectors have hailed a "model" approach to child protection in Perth and Kinross.
Council management are celebrating a glowing assessment of its services for children and young people.
The report, published by the Care Inspectorate, heaped praise on staff and project leaders who are described as "committed" to improving outcomes for children and teenagers at all stages of life, from prenatal care to adulthood.
The wide-ranging review, the third of its kind for Perth and Kinross in the last decade, was commissioned by Scottish Ministers.
The results were so positive, one local MSP has urged the Scottish Government to consult with Perth and Kinross staff on how their practices and ideas can be rolled out across the rest of the country.
Inspectors highlighted the care received by children in residential homes, finding that looked-after youngsters were "thriving".
A Care Inspectorate spokesman added: "The work of the child protection committee was a model of its type, characterised by reflective practice, continuous improvement and public performance reporting".
For the nine quality indicators, the council was awarded two "excellent" ratings, for planning and improving services and for leadership of improvement and change.
Outgoing chief executive Bernadette Malone said: "The joint inspection report highlights very effective partnership working, and shows positive improvements in the wellbeing of children and young people, delivered by excellent professional and strategic leaders, and passionate, committed and innovative staff.
"Importantly, the inspection team identified the strength of our culture and the quality of relationships as key in enabling staff to perform at their very best for children and families."
The findings were also welcomed by new NHS Tayside boss Malcolm Wright, who said: "The positive report demonstrates the dedication and commitment of staff delivering services to children, young people and families across the communities in Perth and Kinross."
The council last year agreed to remove traditional children's homes as part of a £1.7 million shake-up.
The new set-up, which will be the first of its kind in Scotland, will scrap the council-run service at The Cottages in Almondbank, which offers residential support for a small number of youngsters.
The building will be turned into a non-residential hub, staffed by specialists, teachers and therapists.
The move is based on the "outstanding" No Wrong Door project in North Yorkshire.
Local MSP Murdo Fraser said: "This glowing assessment of the practices employed at Perth and Kinross Council is just reward for the hard work being done at residential homes throughout the region.
"I would encourage the Scottish Government to consult with officials at the council here in order to understand what they are doing right and how other local authorities can do likewise."