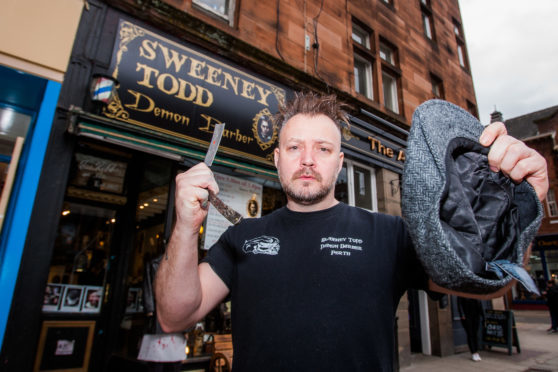 A Perth barber who was threatened with legal action after trying to re-brand as the Peaky Blinders says he has given in to demands from TV bosses.
Will Robertson had tried to change the name of his South Street barber shop from Sweeney Todd but was threatened with legal action by the makers of the hit BBC show.
Chiever Brand Protection, working on behalf of production company Caryn Mandabach, claimed he was trying to "free-ride" on the reputation of the TV show under the English law of 'passing off'.
As well as the name-change, Will had ordered 20,000 Peaky Blinders-branded hair gel tubs, which he will now have to repackage.
The TV show is based on the Victorian-era gang which terrorised the English West Midlands over two decades in the late 19th century and early 20th century.
It has spawned a youth sub-culture who wear flat-caps and high-fade hair-styles similar to central character Tommy Shelby, played by Irish actor Cillian Murphy.
Caryn Mandabach claimed trademarking the name for use as a barber shop would "mislead the public" into thinking the shop was associated with the show.
Will, who filed his claim in December, has now withdrawn his application amid fears he could lose everything if he pursued the trademark.
Will said: "I don't think it is worth it to be honest.
"It would have been good to get the name change but it is what it is. They are a big company and it was always going to be difficult.
"I have had to remove all the associations to the Peaky Blinders characters. I'll just count my losses. I'll need to re-label the hair gel that I ordered but that shouldn't cost much more than a few hundred pounds.
"I guess if I had stuck to my guns we may have come to some sort of an agreement but it is done now."
Chiever BV, who filed a trademark claim at the start of March, are awaiting a final decision from the UK Government's Intellectual Property Office.