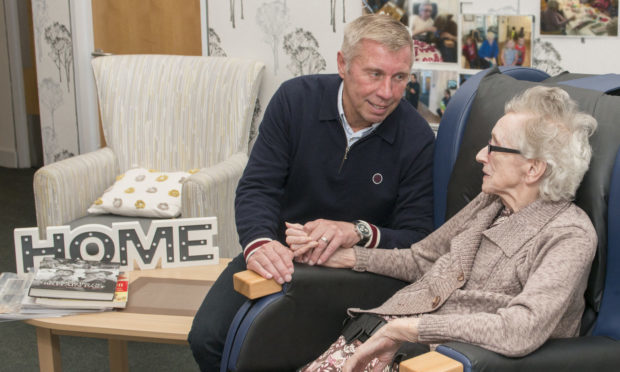 Embattled staff at an under-threat care home have backed calls for industrial action.
Employees at Beechgrove House, Perth's last publicly owned home, have pledged to "fight tooth and nail" to save the service.
The controversial decision to axe the Hillend Road centre was made by the Perth and Kinross Integration Joint Board (IJB) on Friday.
The group aims to make savings of £528,000 a year and the process of moving elderly residents out has already started.
Now a consultative ballot of GMB Scotland members at Beechgrove has shown unanimous support for strike action.
The union said staff, families and community campaigners were particularly angry that the IJB had "bulldozed" through the closure plan, barring two councillors from raising an amendment which could have offered the home a reprieve.
GMB has also written to Perth and Kinross Council leader Murray Lyle, urging the local authority to intervene and work with campaigners to reverse the committee's decision. Industrial action could go ahead if the council doesn't step in, Mr Lyle has been warned.
Organiser Vicki Leonard said: "Closing down the last publicly owned care home in town would be a disaster for local service users, their families and for dedicated staff who deliver first-class care.
"Residents, families, trade unions, community groups and councillors are vehemently against this closure, so it makes an absolute mockery of local democracy when the IJB can impose its will without consent."
She added: "We have written to the leader of the council to inform him of our consultative ballot result, the strength of feeling among the staff towards the IJB and our intention to move to a full industrial action ballot unless interventions are made.
"Perth cannot be the only city in Scotland that doesn't have a council-run care home for its residents and our members will fight tooth and nail to defend it."
A statement issued by IJB outlined the next steps following the closure decision.
"The closure of Beechgrove and the commissioning of care for the clients living there will be done with great care," a spokeswoman said.
"Over the coming weeks and months social workers will work very closely with individual clients and families to help them move to an alternative care home of their choice, providing support, advice and guidance during a time that will understandably be stressful for them. Health professionals will also be involved where necessary.
"A detailed transition plan will be put in place with the involvement of all clients and their families."
Staff are being consulted on redeployment and other options.