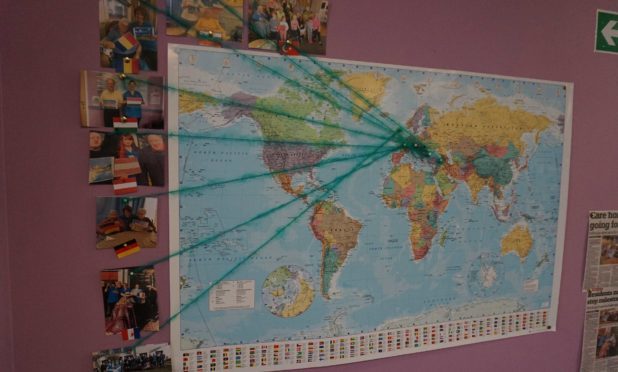 Staff and residents at a Perthshire care home have crossed the finishing line of a virtual world tour.
The Commonwealth Games-inspired campaign saw participants marching from the Balhousie home in Coupar Angus to the Gold Coast of Australia.
It took 61 days for workers, residents and family members, as well as local schoolchildren, to walk the 35,865,999 steps – around 9,500 miles – to their final destination.
Participants took turns wearing pedometers to record their steps, which were added to the grand total.
Among the group was 73-year-old Sheila Pirie, who learned to walk again after a spinal abscess left her paralysed from the waist down.
Each time the care home arrived at a destination, residents celebrated with a themed party based on that country.
After reaching the French coast – more than 2 million steps – walkers were rewarded with hot drinks, wine and croissants.
Bavarian beer was served, alongside bratwurst sausages and pretzels, when the group made it all the way to Germany.
To celebrate finally reaching the Gold Coast, residents enjoyed an Australian-theme lunch with ice cold Fosters lager, burgers, Anzac biscuits and lamington cake.
There was also Commonwealth themed sports including balloon tennis, as well as movies like Crocodile Dundee.
Manager Kathleen Beattie said the challenge was a huge hit for residents and staff, who enjoyed the extra exercise as well as the parties.
"Eveyone at Coupar Angus literally went that extra mile for our World Walking group challenge and we are delighted to have finally arrived in the Gold Coast, after clocking up 35 million steps.
"Our residents' wellbeing is so important to us and encouraging getting active in this way, regardless of their ability, has been such a positive and inclusive experience for everyone involved."
Residents with limited mobility were able to take part with one-to-one mild exercise sessions.
Ms Beattie said: "The support from the local community has been amazing too. I'd like to thank everyone who helped us reach our destination."
Earlier this month, staff at Coupar Angus were praised for helping Sheila get back on her feet.
The mother-of-four arrived at the home last summer, after spending eight months in hospital for renal failure and developed a spinal abscess as a result of an infection.
Nurse Kate Barry, suspected Sheila was experiencing some form of nerve regeneration after she described shooting pains in her legs, which had previously been completely numb.
After a diagnosis was confirmed by a physiotherapist and a doctor, Kate and the team at the care home started Sheila on a course of physiotherapy to help strengthen the muscles in her arms and legs.