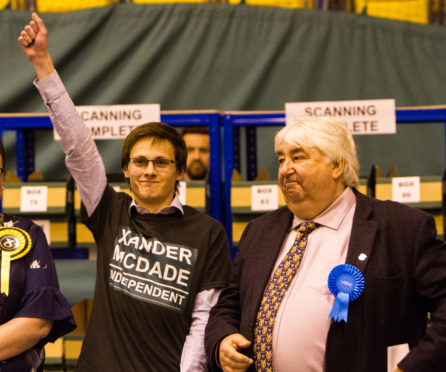 A political row has erupted following a controversial decision to remove an independent Perth and Kinross councillor from two committees.
Councillor Xander McDade, who is one of the representatives for the Highland ward, described proceedings at this week's full council meeting at the local authority's headquarters as "farcical".
He is questioning the reasoning behind him being removed from both the council's lifelong learning committee and its integration joint board.
On Thursday, Mr McDade claimed the decision to axe him from these committees is "very concerning" and undemocratic.
He stated he received notification he would be removed from the committees by email earlier in the week from Councillor Murray Lyle, leader of Perth and Kinross Council.
"Mr Lyle's reasoning is that I stopped providing 'confidence' and 'supply' to the council administration in January, when I resigned from the administration partnership," he said.
"However, if that was the reasoning why did they wait four months when there have been full council meetings since that time at which they could've removed me if they wanted to."
He continued: "Personally, I think it's more likely that they're removing me because I have opposed rural school closures and the closure of the council-run Beechgrove Care Home whilst a member of these committees — it doesn't take a genius to join the dots and see what they're doing.
"This is trying to stack the deck in favour of closure at future meetings and seems incredibly undemocratic. The council administration should be able to stand up to opposing views."
Mr McDade, 23, swept to power in the local council elections in May last year but stressed he feels the decision to remove him from the committees does not demonstrate a principle for "fair representation" on Perth and Kinross Council.
He added: "The council operates a committee system of governance where policy is scrutinised and voted on at committee level. By removing certain groups from some committees this removes the ability to have a fair say and denies the electorate their right for their councillors' voices to be heard.
"The Independents are already the most under represented group on the council's committees and this now means we will be even worse off."
And Deputy First Minister John Swinney, who is SNP MSP for Perthshire North, condemned the council's decision.
"I was both surprised and disappointed to hear that Councillor McDade had been voted off these committees," he commented.
"He was a passionate voice for his local community, and was particularly committed to ensuring that Pitlochry High School remained open."
And SNP Councillor John Rebbeck, who is one of the representatives for the Perth City North ward, described the decision as "unfair and undemocratic."
"I am unclear as to the legality of the actions and am currently liaising with the council's legal services to seek clarity on this matter."
However, Councillor Lyle defended the decision to remove Mr McDade from the committees.
"In January, Mr McDade sent a letter resigning from the administration group — for his own personal reasons," he said.
"Ian Campbell died tragically in early February and I took over as leader. I was aware of Mr McDade's resignation but I felt it was inappropriate to take action until after the Highland Ward by-election.
"Changes to committees can only be approved at full council meetings, and the previous council meeting was shortly after Mr Campbell's death.
"It is normal to remove a councillor if they choose to resign, and in this case we have been able to place the newly elected Councillor John Duff (Conservative) on to the lifelong learning committee.
"My door is always open should Mr McDade wish to speak to me on any subject."