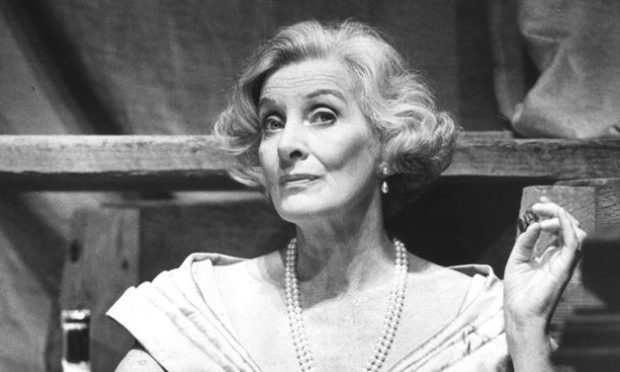 Theatre bosses in Highland Perthshire have led tributes to star-of-stage-and-screen Edith MacArthur, who died aged 92.
Ms MacArthur was best known for her role as Elizabeth Cunningham in top Scottish soap opera Take the High Road.
She appeared in the show's debut episode in 1980 and proved a hit with viewers before her character was killed in a car crash six years later.
After the show, she became a regular at Pitlochry Festival Theatre (PFT), appearing in a run of shows from 1988 including Pygmalion, On Golden Pond and Queen of Spades.
The venue's latest season director Richard Baron said: "I was fortunate enough to direct Edith in four productions at PFT including her memorable Mary Tyrone in Long Day's Journey into Night and Miss Havisham in Great Exceptions.
"Popular on TV for her roles in Take the High Road and Sutherland's Law, she will be remembered by Pitlochry audiences for her superb performance as Ranevskaya in the Cherry Orchard, and the title role in Bridie's Daphne Laureola.
"Famously elegant and gracious but extremely practical, and possessed of an infectious sense of humour, she was widely regarded as the finest Scottish actress of her generation."
In 2001, Edith wrote about her time at the popular Perthshire venue: "Where but in Pitlochry could one play so many wonderful and contrasting roles, with such directors, casts, sets, costumes, stage-crews and audiences?
"This theatre sparkles during the day as brightly as the water it stands beside, and at night it dazzles."
Following her 1999 performance in The Summertime Is Come, director Clive Perry said that audiences would never see her like again.
Local MSP and Deputy First Minister John Swinney has also paid tribute.
He tweeted: "Very sorry to hear the news of the death of Edith MacArthur. She make such a contribution to acting in Scotland and particularly at Pitlochry Festival Theatre. It was always such a pleasure to meet her there."
Born in Ardrossan, Ms MacArthur attended Ardrossan Academy where she begin her life-long interest in acting.
She went on to play at theatres across Scotland and did seasons with the Royal Shakespeare Company at Stratford in the early 60s.
On TV, she also appeared in Dr Findlay's Casebook and in Hamish Macbeth (1996) opposite Robert Carlyle.
Ms Macarthur, who never married, was made an MBE in 2000 and received an honorary degree from Edinburgh's Queen Margaret University the following year.