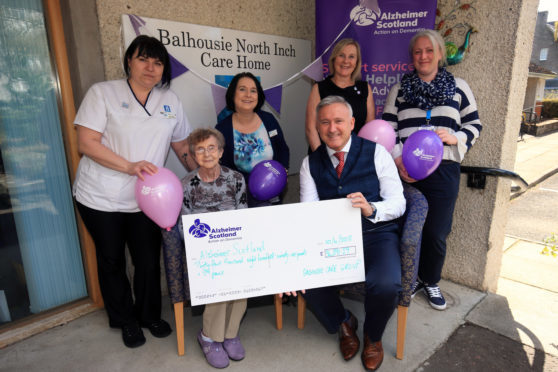 Staff and residents at local care homes across Tayside have raised more than £34,000 for a Scottish dementia charity.
Perth-based Balhousie Care Group staff, residents and their families took part in some "wild and wacky" fundraising challenges, drawing in £34,891 for Alzheimer Scotland.
Antiquary care home in Arbroath held a sponsored cycle and raised more than £450 during a recent fundraising and dementia awareness week.
In Perth, the North Inch and North Grove homes raised more than £400 at their summer fayre and the Lisden home in Kirriemuir raised more than £550 after hosting purple themed party and car boot sale.
The money raised will help pay for specially trained dementia nurses and care advisers, as well as designated dementia ambassadors, who work with patients and their families suffering with the problems associated with the degenerative disease.
Balhousie this year celebrates its 25th birthday and had originally set themselves a fundraising target of £25,000, but due to the terrific efforts of care home nurses, their residents and families, smashed the original figure.
Linda Thomson, corporate fundraiser for Alzheimer Scotland, said: "We're absolutely delighted with the results of this year's partnership with Balhousie Care Group.
"It's been very rewarding to support the innovative work that Balhousie are implementing through their dementia strategy and their amazing dementia ambassadors.
"We rely on donations such as those received from Balhousie Care Group to help us sustain vital services like our dementia advisors, dementia helpline, dementia nurses and dementia resource centres.
"We are very grateful that Alzheimer Scotland will benefit from the impressive sum raised by Balhousie's dedicated staff which will go a long way towards helping us fulfil our aim of making sure no-one goes through dementia on their own."
Steve White, CEO of Balhousie, said: "The charity partnership with Alzheimer Scotland has given us all a fantastic opportunity to increase our knowledge about dementia across the entire organisation, enabling us to help raise awareness as well as funds.
"We are incredibly proud of our dedicated and enthusiastic staff, they really embraced the challenge and we're delighted that the total raised reflects their efforts throughout the year. "