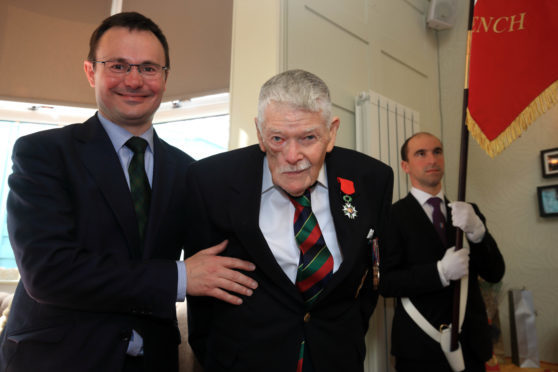 A Kinross war hero who stormed the beaches at Normandy has received France's highest military honour for his role in the country's liberation.
Duncan Foster was awarded the Legion d'honneur at a ceremony in his home town.
The prestigious medal was pinned to the 95-year-old's chest by the Consul General of France Emmanuel Cocher, as proud friends, family and fellow veterans looked on.
Born in Glasgow, Mr Foster moved to Perth when his father got a job as the city's railway station master.
Shortly afterwards, Mr Foster joined the Territorial Army and trained at Fort George, near Inverness, with the Queen's own Cameron Highlanders.
After basic training, he was sent to the south of England to prepare for D-Day, June 6, 1944.
After landing at Normandy, Mr Foster and the other 5th Camerons were given the job of capturing the village of St Honorine, while the 2nd Battalion the Seaforth Highlanders were to take Demouville.
The first attack by the Camerons, on June 13, 1944, did not go to plan because of very heavy artillery fire and counter attacks by enemy troops and tanks.
The tremendous concentration of German firepower made it impossible for the Seaforth Highlanders to advance.
On June 22, the Camerons were set back to have another crack at St Honorine. This time there was no ancillary support, but tanks were available to assist.
They entered the village by 8.30am and were "mopping up" by 10am. During the campaign, they encountered a series of vicious counter attacks, but were able to maintain their position.
Two months later, they were involved in the battle of the Falaise Gap and spent Christmas 1944 fighting through sub-zero conditions in the Ardennes.
Mr Foster left the army in 1947 and trained as an optician in Dundee.
He moved to Enniskillen in Northern Ireland and then Donegal where he had several practices.
After his retirement he returned to Scotland and settled in Kinross where he continued to work as a locum optician into his 80s. He has been married to Sally Foster for 62 years.
Retired colonel Andy Middlemiss, deputy lieutenant for Perth and Kinross, who led Wednesday's ceremony at the Kirklands Hotel,  said: "He is truly a remarkable man in many, many ways."