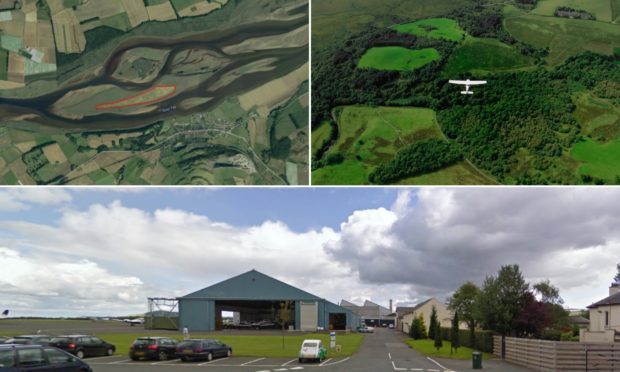 A pilot had a remarkable escape when he was forced to land his plane on an island on the River Tay.
Lifeboat crews raced to Mugdrum Island, near Newburgh, after the Cessna light aircraft had to make an emergency landing due to engine problem.
The pilot, understood to be the sole occupant, was plucked to safety from the island by an RNLI team from Broughty Ferry.
He had set off from Perth Airport minutes earlier but reported difficulties with the plane's engine not long after take-off.
Fife SNP councillor David MacDiarmid, who represents the Howe and Tay Coast ward, praised the pilot for averting a potential catastrophe.
"The man must be happy today as it is only by using his brilliant skills that he is alive," he said.
"Mugdrum Island is said to be the biggest in the River Tay but it wouldn't look that big if you were going to have land a plane there.
"It's absolutely wonderful that he managed to land  – heaven knows what he must have been thinking when his engine suffered problems.
"If the plane's engine cut out the pilot must have had to glide on to the island. You don't want to think what might have happened if he had come down in the River Tay – it may have been a totally different outcome.
---
---
"I'm delighted he managed to do this and very pleased that he is okay."
An operational co-ordinator at Perth Airport confirmed the Cessna had taken off from there and said teams were in contact with the pilot.
"We are aware of the incident as the plane took off from here and we got word it had engine problems," he said.
"It was a Cessna aircraft. We are providing support to the man involved."
He added that the plane was not based at Perth Airport.
A spokesperson for the Royal National Lifeboat Institution (RNLI) said: "At 11.31am on Saturday, the Broughty Ferry RNLI were called into action following a report that a light aircraft had performed a forced landing on Mugdrum Island, River Tay, after experiencing mechanical problems.
"RNLI volunteer lifeboat and shore crews launched the inshore lifeboat within eight minutes of receiving the call. On arrival at Mugdrum Island at 12.25pm, the volunteer crew found the pilot of a light aircraft uninjured and well, but stranded on the island.
"The crew assisted the pilot on to the lifeboat before transporting him to Newburgh where he disembarked."
Mugdrum Island lies in the River Tay beside Newburgh.
According to Newburgh History Society,  a farm was located on it up to the 20th Century when the buildings were knocked down.
Reeds from Mugdrum Island were once used for thatching roofs.