Move over Harry and Meghan – this couple are tying the knot.
Wedding fever took over at Scone Palace at the weekend as thousands of medieval battlers dropped their swords to watch a proposal with a difference.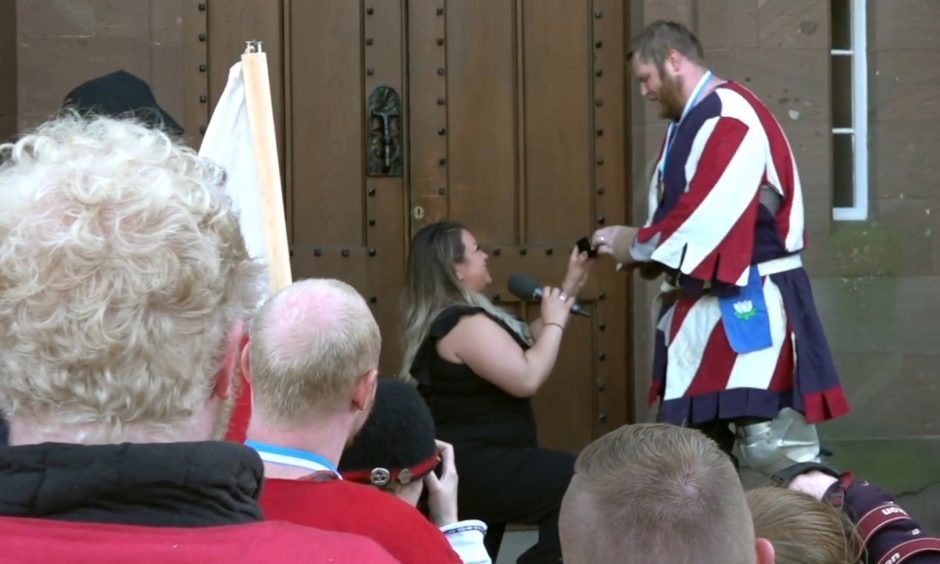 Crowds had flocked for the International Medieval Combat Federation World Championships and American Blanca Rand seized the opportunity to pop the question to her very own knight, Andrew Dionne, after his USA team won the gold for the 16 versus 16 event on Sunday.
Proving times have changed since the medieval days, Blanca knelt in front of Andrew during the closing ceremony on the palace steps, to cheers from thousands of spectators and competitors when he said yes.
Blanca said: "Scone Palace is a beautiful place and such a romantic setting, so it made sense to propose – especially just days before the royal wedding.
"I was inspired by the power of all the females taking part in the tournament so I asked Lady Mansfield of Scone Palace for permission to propose to Andrew.
"With thousands of people watching, thank goodness he said yes."
The couple were among hundreds of competitors and supporters from 31 countries to take part in a series of sword and axe wielding battles from Thursday until Sunday, when the championships came to Scotland – the first time the UK has hosted the event.
Teams travelled from all over the world, including the USA, Mexico, Quebec and China.
Stephen Brannigan, head of house opening at Scone Palace, said: "Scone Palace and its grounds are a popular wedding venue but I can honestly say this is our first 21st century knight proposal.
"It was a touching and lovely end to the event, seeing Blanca and Andrew's special moment take place on our very own steps."
---
Video courtesy of Braemar Media