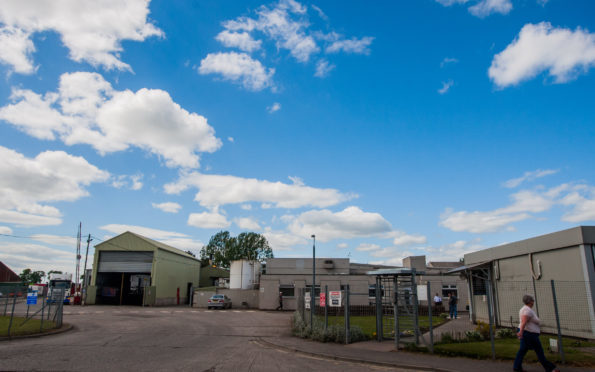 Coupar Angus residents state they are at the end of their tether over more hideous smells emanating from the town's chicken processing factory.
Some householders are suggesting the odours from the 2 Sisters Food Group building are so bad it is making them sick and they cannot put washing out to dry.
The factory has been under the spotlight in recent years, with residents demanding action be taken. Claims of pungent smells coming from the factory have led people in neighbouring properties to write to John Swinney, SNP MSP for Perthshire North.
Resident, Amanda Williamson, said: "I'm raging. Most of the people who live here have no life whatsoever.
"You can't hang washing out and can't open windows. It makes you feel like you are going to vomit."
Maryann Bannigan, added: "The houses here are full of dust day and night from the site – I've never seen dust like it. We have a right to live in peace without odour pollution."
Karen Young Kerr said she had to close all her windows due to the "stench" and Anne Gall claimed the Scottish Environment Protection Agency (Sepa) is "doing nothing" about the smells.
"I'm sick of it now – something needs to be done about this as you can smell it day and night," she commented.
Meanwhile, Kim Coram suggested the neighbours who live beside the factory need to act in harmony.
"There is maybe around half a dozen complaining about this. We need to get together as a community to get something done."
Mr Swinney said: "I am aware of the renewed issues regarding odour emanating from the 2 Sisters factory. I have once again been in contact with Sepa regarding this issue, and I am hopeful that the situation can be resolved in a satisfactory and timely manner."
The 2 Sisters Food Group confirmed Sepa had been notified of the claims and that two environmental officers visited the Coupar Angus site earlier this week.
"Sepa were made aware of a complaint and two officers visited the site and toured the residential area earlier this week," she said.
"They did not report any odour issues.
"The last Sepa environmental grading in March rated the facility as 'good'."
A Sepa spokesperson said the watchdog had received a "number" of recent complaints from Coupar Angus residents about odours from the 2 Sisters site.
"As a result of these complaints, Sepa officers attended the site and wider area on Tuesday to carry out an odour assessment. The officers detected odour while carrying out this investigation, but did not believe it to be offensive at that time.
"We would advise members of the public to contact our 24-hour pollution hotline on 0800 807060 when they are affected by odours and Sepa will investigate."
Sepa had issued the 2 Sisters Food Group with a final warning in August 2016. This followed complaints from local residents and a site visit by Sepa officers who found noticeable offensive odours outwith the site boundary.