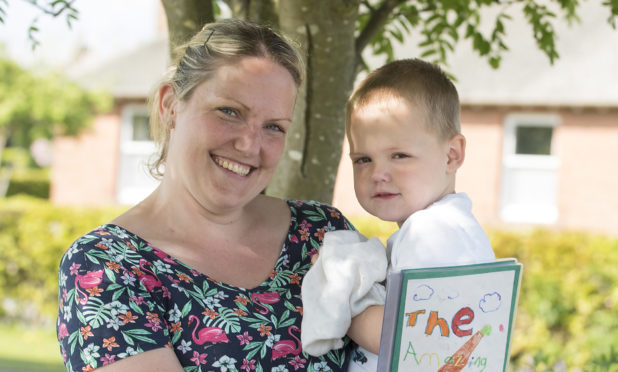 A Perth youngster has published a book to raise money for a specialist charity that supports his little brother.
Seven-year-old Ethan Scott, wrote 'The Amazing Ross,' to raise funds for Spina Bifida Hydrocephalus (SBH Scotland).
The charity helps care for his three-year-old brother Jackson, who was born with hydrocephalus, which causes a build-up of fluid on the brain.
The support shown by SBH Scotland since Jackson's birth has made Ethan put pen-to-paper to show his appreciation.
After writing the words and drawing the illustrations, Ethan also took to the streets to sell copies to local residents.
Since it was released, more than 40 have been sold, raising more than £200.
The boys' mother, Jenni, spoke about the support the charity has shown and Ethan's incredible creativity.
She said: "SBH Scotland have offered incredible support to Jackson and our family.
"It has been so important just knowing the charity are always there for us and have been from the very start.
"Ethan is such a creative and thoughtful big brother who wants to help Jackson and others with spina bifida and hydrocephalus.
"I could not be prouder of him for taking on this project, and for raising funds for such a fantastic cause."
Formed in 1965, SBH Scotland offers specialist care to children and adults who are affected by spina bifida and hydrocephalus.
Fundraising director for the charity, Deborah Roe, said: "We love seeing all the creative ways our supporters fundraise for our organisation and we can't thank Ethan enough for his help.
"Scotland has more live births per head of population with spina bifida and hydrocephalus than anywhere else in the UK.
"Efforts like this are absolutely vital to ensuring we can continue to deliver support to families across the country."