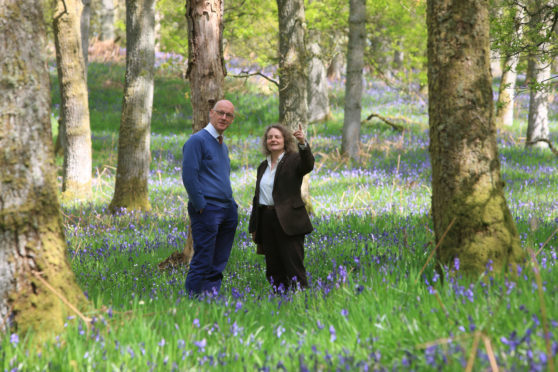 The conservation team behind plans to revive a famous Perthshire woodland are celebrating a new milestone.
Woodland Trust Scotland has completed the first phase of work on the historic Kinclaven Bluebell Wood, near Blairgowire.
The charity took over the former Ballathie woodland last year, thanks to a generous legacy from a long-time supporter.
The site is well known for giving shelter to William Wallace and his army in the 13th century.
The troops hid among the trees after they attacked the English garrison at nearby Kinclaven Castle.
Trustees have been working on plans to enhance the woods with native trees – as it would have looked in Wallace's day – and reforest adjacent grassland which was cleared of trees in the 1940s and '50s.
Charity bosses have now completed work on a new car park at the north-west corner of the wood. The expansion is expected to draw more people to the area, following complaints that parking could be a major problem at peak bluebell times.
Deputy First Minister John Swinney was given a tour of the woods on Friday by trust director Carol Evans.
She said: "Mr Swinney has been a great ally to us in securing the future of this fabulous wood.
"A letter from him supporting Woodland Trust Scotland's purchase was influential in us gaining support from colleagues throughout the UK. He also helped us liaise with the previous owner and with the community.
"So, as the bluebells hit their peak, it is an absolute joy to be able to show him the wood today and thank him for his support."
Mr Swinney added: "As a long-term supporter of Woodland Trust Scotland's attempts to purchase Kinclaven Bluebell Wood, I am delighted that it is now in their ownership.
"Their ambitious plans to improve an iconic Perthshire location are heartening, and I am confident that Kinclaven Bluebell Wood's future is in good hands."
He said: "The wood is truly stunning – especially so during the summer months – and as such I would encourage everyone to visit this beautiful area."