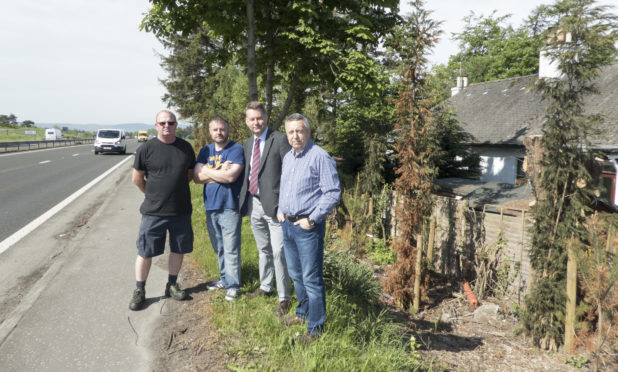 Transport Minister Humza Yousaf has been urged to help protect homes at the side of one of Tayside's busiest roads, after bungling workers removed a row of trees by mistake.
Residents at Glendoick, on the edge of the A90, said the trees acted as a crucial sound barrier and provided screening for their properties.
Bear Scotland has admitted it was wrong to remove the trees during routine maintenance work. Replacements planted by the roads authority have already died.
Residents are calling for a safety barrier to be installed at the roadside, to help protect their homes and give them peace of mind.
Mid-Scotland and Fife MSP Murdo Fraser met local councillor Angus Forbes and residents at the site.
The Conservative MSP said: "The residents of Glendoick have been badly let down by Bear Scotland and it's important that the Scottish Government steps in to resolve these issues.
"There is a clear safety issue in addition to obvious lifestyle problems for householders who no longer have a sound or screening barrier."
He said: "Furthermore, if an HGV was to come off the road at this point, the lack of a safety barrier poses a real risk to homeowners."
Mr Forbes added: "I am delighted that Murdo has agreed to assist with this issue. I have been trying to get a resolution for my constituents for some time and the lack of any commitment to this from Transport Scotland has been frustrating."
A BEAR Scotland spokeswoman said: "Earlier this year we completed some site clearance works after safety concerns were raised by a local resident regarding trees adjacent to the trunk road.
"Some trees on land outwith the trunk road boundary were removed in error during the works, and we immediately arranged for trees to be replanted following discussions with the local resident."
She said: "We're carrying out regular inspections of the newly replanted trees and additional works are being arranged to ensure the trees are in good condition."
A Transport Scotland spokesperson said crash numbers and statistics would be taken into account when considering installing a new barrier.
"The location in question does not show a significant accident history, with no injury accidents recorded on this side of the dual carriageway in the most recent five year period for which data is available," he said.
"We will, of course, continue to monitor the safety of this section of the network, as we do with the trunk road network as a whole."