The biggest event ever to be held at Scone Palace will be life-changing  for young locals, organisers have pledged.
Thousands of people will descend on Perth on Friday and Saturday for BBC's Biggest Weekend.
And The Courier was given a sneak-peek of the gig venue on Thursday ahead of the highly-anticipated live music showcase, with the grounds of Scone Palace transformed.
Preparations are well under way for the two-day festival, which kicks off with Radio 3's classical music showcase, featuring Nigel Kennedy and Evelyn Glennie.
On Saturday 20,000 people will pour into the grounds for the sold-out main event,  when acts including Noel Gallagher's High Flying Birds, Simple Minds and Emile Sandé will take to the stage.
Around 500 staff members from security to catering are expected to attend over the weekend and 400 have already been involved in setting up the arena over the last 10 days.
Yesterday, event manager Colin Rodger said: "This will be a life-changing experience for a lot of young people who live in the area.
"It's a family-friendly event but still to the highest possible standard and for many of them it will be their first experience of a festival atmosphere, right on their doorstep.
"It's not just for locals though. As it will be broadcast on TV and radio it has to be fit for a worldwide audience so all of the equipment is second to none.  It is the standard you would get at a world tour for Beyoncé or Bruce Springsteen."
Colin encouraged people to make the most of the balmy weather forecast by attending the Radio 3 event, as tickets are still available on the door.
"We were under no illusions, we knew Saturday would be the most popular but the Radio 3 event is going to be dynamic and interesting," he said.
"It will be something different for a lot of people and I think anyone who goes not really knowing what to expect will be so glad they did. We want people to make the most of the event being here so it would be great for people to come along."
It is thought the Biggest Weekend will boost the local economy by around £1 million and many of the staff at the festival, including security and catering, are from the Perth and Kinross area.
The Scone gathering is one of four events being held across the UK this weekend, with others happening in Belfast, Swansea and Coventry.
Stephen Brannigan, head of house opening at Scone Palace, said: "This is the first time the palace has entertained a BBC event so it's fantastic to have it here.
"It's a huge event for Perth and Kinross.
"This is the most prestigious event that we have had on the estate, it will have global coverage and links in with the other three venues across the UK.
"It's unique, both for the BBC and ourselves and it's absolutely great to be involved."
Organisers defend road closures
Festival organisers have defended a swathe of road closures across Perth during the Biggest Weekend.
An extensive traffic management plan for the area around Scone Palace and in the city centre had been described as overkill by angry residents and business owners, with some staying closed today due to an anticipated lack of customers.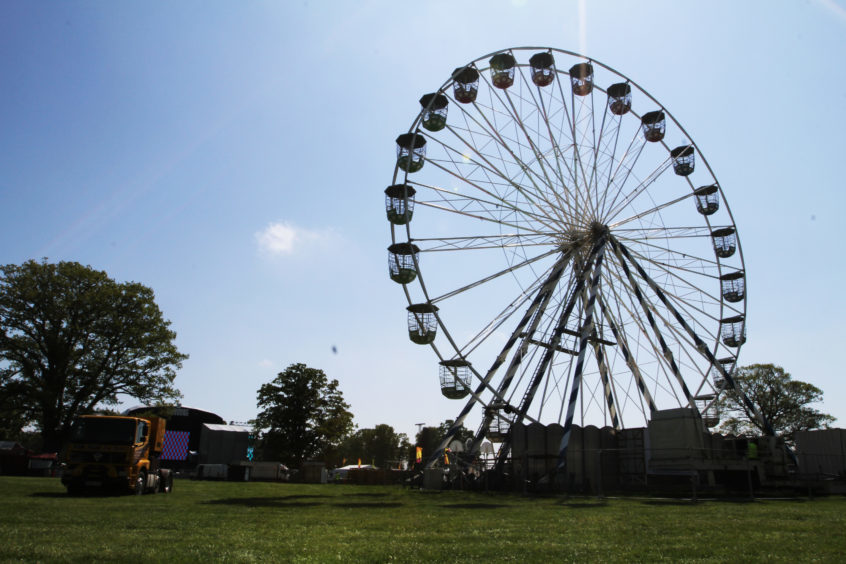 But Colin Rodger, event manager, insisted the restrictions, accompanied by a shuttle bus service from the city centre, which still leaves a 20-minute walk to access the arena from the drop off point, are necessary to prevent chaos at the end of the event.
"When Scone Palace or the racecourse hosts other events there are fewer people and they're often coming and going at different times," he said.
"On Saturday night there will be 20,000 people all trying to get back to the city centre from here at once, that is the scale of the operation.
"The council has invested significantly in trying to do that with as little disruption as possible.
"I have been at events all over the country, including some of the most challenging events and I can honestly say the council has been fantastic in trying to ensure it all runs smoothly."
Others were less convinced and still had serious concerns about the impact of the traffic management plan.
In George Street, courier firm Pharos Parcel has announced it won't open on Friday. A sign in the window directs any complaints to the council's traffic management team.
A fundraising event for the Perth and District branch of Guide Dogs at Guildtown Village Hall, planned for Saturday, has been cancelled.
Angry taxi operators say they have been given no pick-up and drop-off points at the site, leaving many people who have pre-booked services high and dry.
Taxi driver Eddie Wright, who has three decades of experience in Perth and Kinross said: "The council in its wisdom has decided to ban all taxis and private hires from having a drop-off point and pick-up point on site.
"Rewind has been held there for over five years, with no traffic problems or safety issues."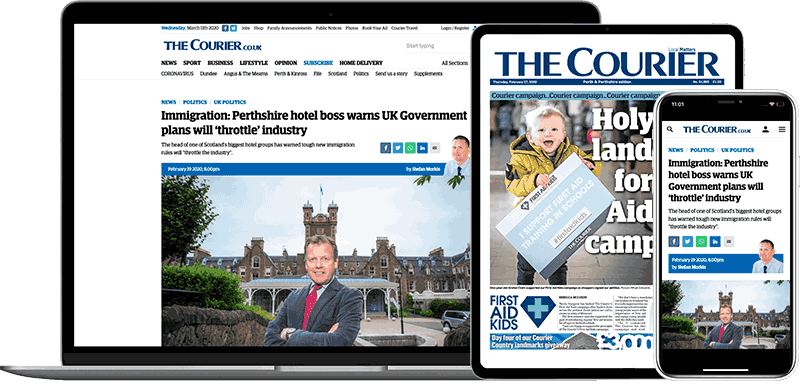 Help support quality local journalism … become a digital subscriber to The Courier
For as little as £5.99 a month you can access all of our content, including Premium articles.
Subscribe