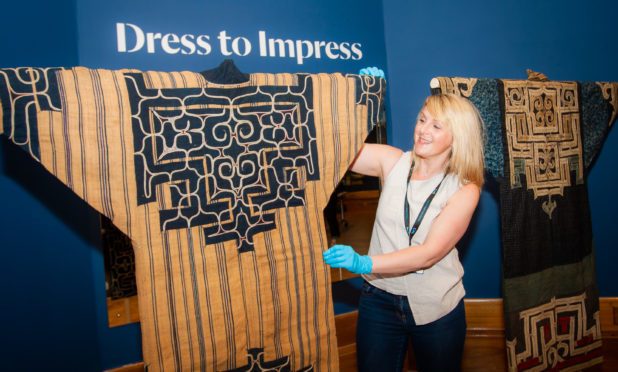 Never-before-seen costumes and artefacts from Asia, including an extremely rare ceremonial robe, will be showcased at a new exhibition in Perth.
The Dress to Impress display features ceremonial wear, Samurai swords and armour, as well as art and accessories, some of which date back to the 17th century.
One of the outstanding exhibits is a silk and gauze ceremonial costume, or Jebok, from Korea.
A Jebok was the highest form of ritual clothing worn for Confucian rituals and rites such as sacrifices to ancestors and deities.
According to exhibition organisers at Perth Museum and Art Gallery, the Jebok on display in the Fair City is one of only two in such condition in the whole of the UK. The other is at the V&A London.
The Dress to Impress exhibition is the result of a collaborative project between George Street gallery and the National Museums Scotland, supported by the Heritage Lottery Fund, raised by the National Lottery players.
Many of the items on display are from two Perthshire collectors fascinated by East Asia who donated their personal collections to the museum.
Melville Gray, heir to Bowerswell House in Kinnoull, Perth became a sheep farmer and estate manager in New Zealand. He had a passion for collecting and his home was full of curiosities. Gray donated the Korean Jebok.
John Henry Dixon was Yorkshire born but settled in Scotland. He began his travels to Japan in his sixties, learning the Japanese language, music and art. His house in Pitlochry featured a Japanese garden.
Helen Smout, chief executive of Culture Perth and Kinross, said: "East Asia is continually fascinating to Westerners and the history and practices of the region have a devoted following worldwide. That's why we know Dress to Impress will appeal to a wide range of visitors."
The exhibition, which runs until the end of October, has been developed with National Museums Scotland as part of the Ancient Egypt and East Asia National Programme in support of the new galleries which open at the National Museum of Scotland in Spring 2019.