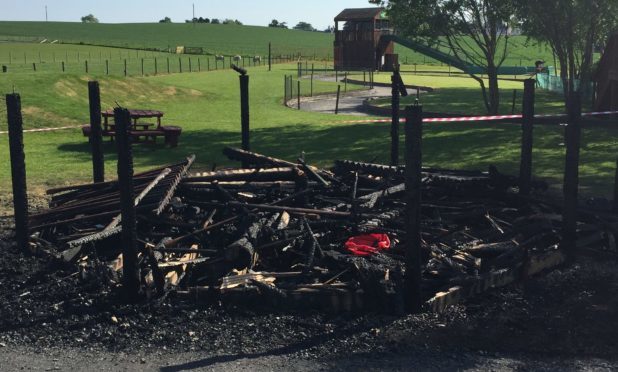 Customers and staff at a children's adventure park in Perthshire have been left "devastated" by the actions of yobs who set fire to a wigwam at the site, leaving only charred remains of the popular attraction.
Scores of incensed parents have hit out at the callous actions of the vandals who have completely destroyed the wigwam at the Active Kids Adventure Park in Stanley.
The park owners say the fire could have had even worse consequences without the prompt actions of the Scottish Fire and Rescue Service preventing the blaze spreading into nearby pens which house pigs, lambs, rabbits, guinea pigs and an aviary.
The wigwam is used for children's birthday parties.
The fire-raising took place on Friday night, with Gill Whiteford, manager at Active Kids Adventure Park, claiming it followed a "string of vandalism" that took place earlier last week.
The adventure park hosts around 1,000 visitors per day in the summer, with around 600 being children.
Scores of angry parents took to social media to vent their feelings on the fire raising.
Samantha Kirby Allan posted on Facebook: "Who would do such a terrible thing in a kids play adventure park? They should be locked away and punished – so sad.
"What's the world coming to?"
And Ann Mollison added: "What a shame. What kind of mindless imbeciles do these things?"
Helen Redman posted: "So sad that people do this, especially targeting a children's play area."
Wilma Bailey posted: "Shocking that some people have no respect and love to take the enjoyment out of things."
Joan Smith said: "How can people do such a thing and spoil a wonderful day out for kids?"
A spokesman for SFRS said: "The Scottish Fire and Rescue Service was alerted at 9.09pm on Friday to reports of a fire at a children's play park.
"One fire engine was mobilised to Active Kids Adventure Park in Stanley, where firefighters extinguished the fire, which had taken hold within a tepee.
"The crew left the scene after ensuring the area was made safe."
A police spokesperson said officers have spoken to two youths in connection with the incident but confirmed that inquiries are continuing.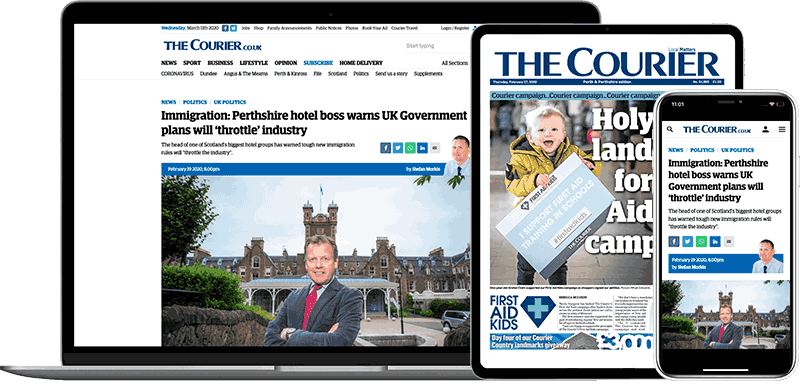 Help support quality local journalism … become a digital subscriber to The Courier
For as little as £5.99 a month you can access all of our content, including Premium articles.
Subscribe