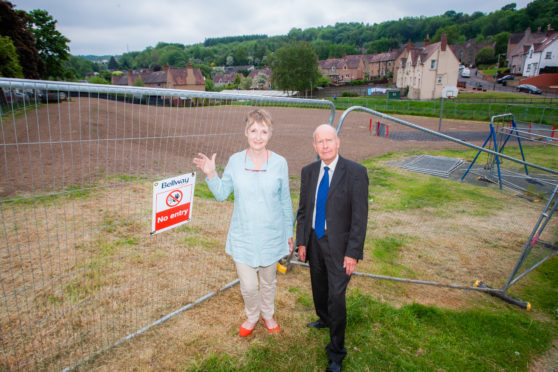 It may have been one of the hottest Mays in memory, but children from  Perth community have been unable to enjoy the weather in their local park as it remains fenced-off months after sewage works were completed.
Residents living around the park off Darnhall Crescent in Craigie have been left with an eyesore after contractors acting on behalf of Bellway Homes ripped up the grass to increase sewage capacity.
The work was finished in November and the developer still has not put the park back as it was found, despite previous reassurances.
Liberal Democrat councillor Willie Wilson has called for new turf to be put on the grass and the fencing to be removed, so that local children can make use of their park.
He believes Bellway has sown grass seed but said this will take too long to grow and the area should have been re-turfed.
He said: "This saga has gone on for too long and it's now time for action.
"We are relieved that Bellway appear to have carried out some preliminary work, which will give local residents some hope that the situation may finally be resolved soon.
"It's extremely unfortunate that local children have been deprived of most of the play park for the spring and the recent good weather, which is hopefully leading to summer.
"We will continue to monitor the work on a regular basis."
Residents were stunned when workmen pitched up on the park last year, saying they were given no warning and the area was turned into a mudbath.
Local campaigner Liz Barrett said : "It is a disgrace that Bellway Homes have not yet fulfilled their obligations to re-turf the grass and reinstate the ball park.
"The park is still an eyesore and local residents and families have not been able to enjoy it in the fantastic weather we have had recently."
Nobody from Bellway Homes was available for comment.