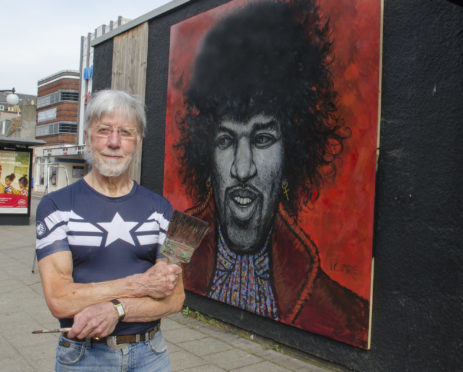 A giant painting of legendary rock guitarist Jimi Hendrix has been mounted in Perth city centre.
The striking 10 foot by 10 foot picture is the work of Perth artist Ian Imrie, who decided to paint the 1960s icon to mark 50 years since he met star and also to celebrate his 80th birthday.
Mr Imrie, who also pinned up murals depicting various battles of the First World War in the lane located between Mill Street and the High Street in Perth last September, revealed how he could have owned a priceless piece of Hendrix memorabilia.
He said: "Once I met Jimi Hendrix. He asked me if I wanted to try on and keep a felt hat belonging to him.
"I didn't take him up on the offer but looking back I should have as it would have been worth a lot of money now.
"I was a public relations advertising man back in 1968 and had been invited to the launch of a new album by Mary Hopkins.
"The event was held at the famous Post Office Tower's revolving restaurant in London and when I got there I met Paul and Linda McCartney who asked me if I wanted to meet Jimi.
"Being more into jazz I wasn't that aware of Jimi but I remember this tall black man who was very affable."
He continued: "There was a lot of champagne on offer and we all ended up getting inebriated. The revolving restaurant had this lift that descended at what seemed like 100mph so it is certainly an event I remember."
Mr Imrie explained why he has taken to erecting artworks in the city centre.
He said: "I had previously pinned up First World War murals in Perth city centre and now this is my latest painting. I wanted to put it up as I feel the standard of street art in Perth isn't up to scratch."
The painting has been erected at the premises of Giraffe's cafe in Mill Street, Perth.
A spokesperson for the social enterprise group commented: "We would like to thank Ian, who is Perth's answer to Banksy. This is a stunning piece of art work of the iconic rock legend Hendrix."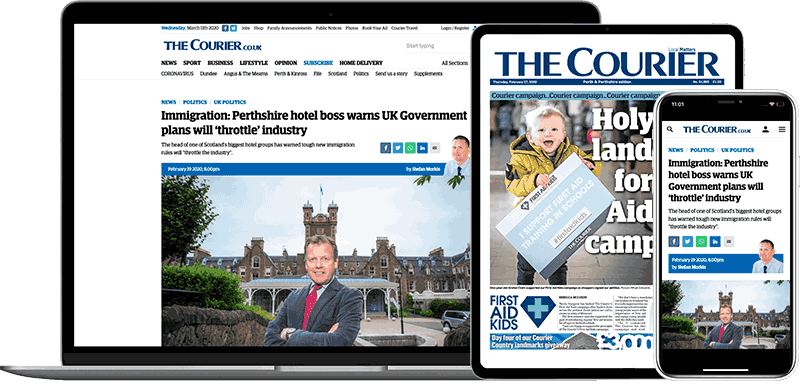 Help support quality local journalism … become a digital subscriber to The Courier
For as little as £5.99 a month you can access all of our content, including Premium articles.
Subscribe