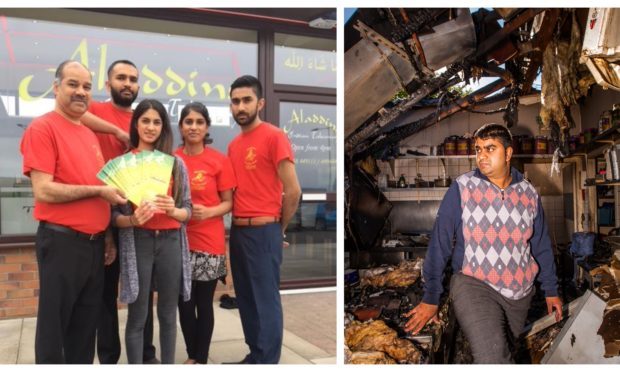 A Perth take-away owner is to re-open his business 20 months after it was destroyed by a fierce blaze.
Owner Tony Mohammed and his family were devastated when an accidental late-night fire ripped through the roof space at Aladdin's takeaway on Perth's Western Edge in September 2016.
They watched helplessly as the flames engulfed the premises on West Mains Avenue and firefighters battled to bring the inferno under control.
As they sifted through the burnt out ruin and counted the cost, the devastated family pledged to rebuild a business which had been operating since 1999.
Initial hopes of a rapid return quickly evaporated as the scale of the rebuild became clearer.
After operating from the family's other business interests in the Fair City, Mr Mohammed and a 10-strong team of staff are preparing to open the doors of the new takeaway on Wednesday.
"It has taken a lot longer than we had hoped to get to this stage but we're finally there," he said.
"We knew the premises had been wrecked by the fire and water damage but we hadn't anticipated the scale of the rebuild that was going to be required when we first saw it in the daylight.
"There were engineering challenges to overcome and then we had to secure planning consent for what is effectively a new building.
"We have had to be patient but luckily our customers have remained loyal and we even won regional takeaway of the year recognition award in the Scottish Curry Awards. That was a huge boost to morale.
"It has all dragged on longer than we would have liked but now we have been given the green light and we can't wait to get going again."
Mr Mohammed underlined the spirit among his staff to remain optimistic that the take-away would eventually open its doors again.
"It was horrendous seeing your business going up in flames but it wasn't going to beat us," he added.
"We were relieved neighbouring businesses weren't affected and have been very supportive.
"And looking on the bright side the new-look takeaway really looks smart."
A joint investigation by police and the Scottish Fire and Rescue Service concluded there were no suspicious circumstances at the time of the fire.
Staff at Aladdin's moved into temporary accommodation in Perth's South Methven Street while repair work took place at the West Main Avenue premises.