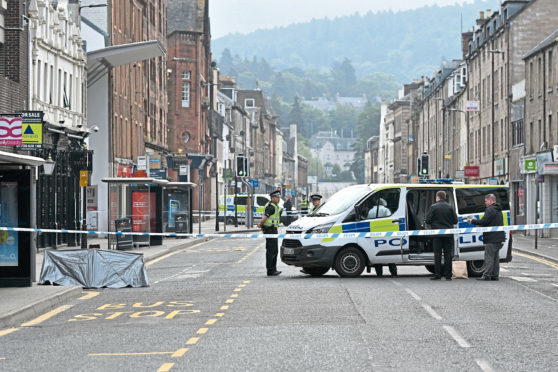 Police are on the hunt for three men who they believe carried out a violent assault on a 35-year-old man in Perth city centre at the weekend, leaving him with head and body injuries.
Officers enforced a lockdown on part of South Street – between King Edward Street and Scott Street – following the assault which took place around 1.20am yesterday.
There was a heavy police presence in the cordoned off area of the street, with officers and detectives carrying out door-to-door inquiries accompanied by scene of crime officers.
A man suffered serious injuries in the attack. He was taken by ambulance to Ninewells Hospital, Dundee, where he remains for treatment. It is understood his injuries are not thought to be life threatening.
Police have said they believe the man was attacked by three males near a bus stop outside the Royal Bank of Scotland building in South Street. Witnesses have told how scene of crime officers were seen within the cordon set up in the road.
Traffic was diverted along Scott Street.
One resident said: "It seems to be something fairly major as it is a large part of the centre which has been taped off.
"Scene of crime officers have been going about the place and there is one of those small tents they put up to protect evidence on the ground."
Dave and Betty Davis, of Dunfermline, were in Perth at the weekend to watch the Perth Gold Cup event at Perth Racecourse and said they were shocked to learn the man had been assaulted.
"This isn't what you expect to happen in Perth but I suppose these kind of incidents can take place in any town or city," Mr Davis said.
"It must have been a bad assault to have the street cordoned off for so long. I just hope the police catch them."
Iain Dunbar, of Inverurie, was also visiting Perth to watch the horse racing, and he admitted the incident had cast a shadow on his weekend.
"I was out in Perth on Saturday night with a group of friends and we had a great time," he said.
"We were all looking forward to the racing but this assault brings you down to earth. There's too many of these incidents where several people attack one person."
Yesterday a police spokesperson said: "Police are investigating a serious assault that occurred in the South Street area of Perth around 1.20am on Sunday.
"The 35-year-old male victim sustained injuries to his head and body and is currently being treated at Ninewells Hospital, Dundee.
"It is believed that three suspects were involved in the incident and anybody who witnessed the assault, or has any information in relation to it, are asked to contact police on 101."
preoch@thecourier.co.uk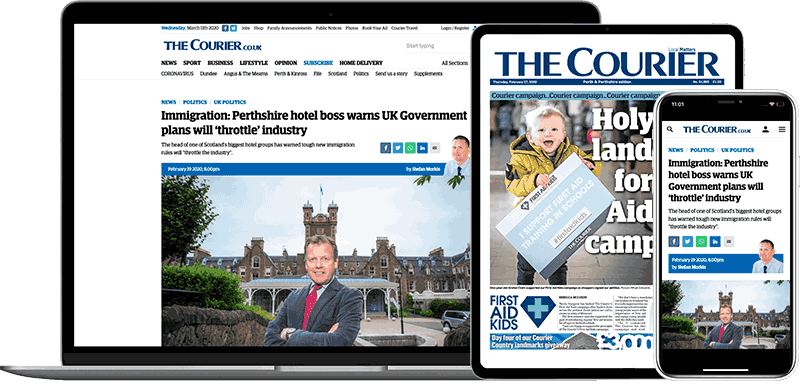 Help support quality local journalism … become a digital subscriber to The Courier
For as little as £5.99 a month you can access all of our content, including Premium articles.
Subscribe