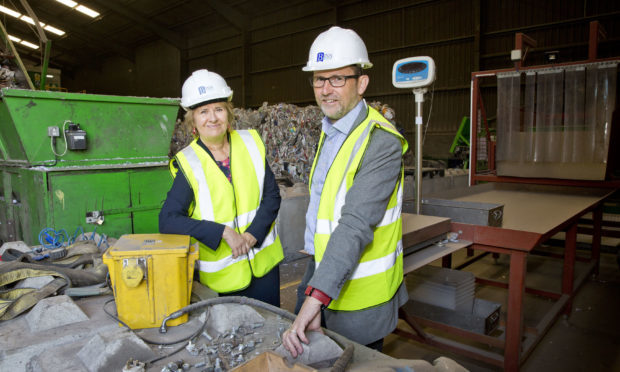 A game-changing recycling scheme – the latest weapon in the war on plastic pollution – has been launched in Perthshire.
More than £3 million has been ploughed into the new partnership at Binn Farm near Glenfarg.
The company's "world-leading" Project Beacon has the potential to process all plastics in Scotland and beyond, including the ones that can't currently be recycled including laminated material, film and hard plastics such as washing up bowls, seaside toys and coat hangers.
It has been backed by £1.7 million from Zero Waste Scotland, with match funding from the private sector. The scheme is also supported by the Scottish Government and the European Regional Development Fund.
The new set-up being developed at Binn Farm uses state-of-the-art separation systems featuring mechanical recycling fused with a chemical recycling process, producing new plastics and other chemical products.
It is hoped the first demonstration facility will be up and running before the end of the year.
Cabinet Secretary for the Environment Roseanna Cunningham visited the Glenfarg plant to check out progress on the new system.
She said: "Initiatives like Project Beacon have the potential to be ground-breaking as they are finding new uses and economic potential for hard-to-recycle plastics which could make a significant contribution to reducing waste and increasing recycling."
The SNP MSP for Perthshire South and Kinross-shire added: "Project Beacon's ethos and partnership approach supports our work to tackle Scotland's throwaway culture, which includes our commitment to a deposit return scheme and the recent appointment of an expert panel to look at single-use items."
Iain Gulland, chief executive of Zero Waste Scotland added: "I am delighted not only that our financial support is helping create a potentially world-leading recycling facility here in Scotland, but that Zero Waste Scotland's expertise has been instrumental in bringing it about.
"Project Beacon has the potential to transform plastics recycling in Scotland and beyond, and at a time when people are increasingly concerned about the impact of plastics dumped in our environment, I'm excited to watch this circular economy business grow and develop."
Project Beacon brings together a group of recycling firms including PI Polymer Recylcing, Recycling Technologies Ltd and Impact Recycling.
The Binn Group has signed on as supply chain partners.