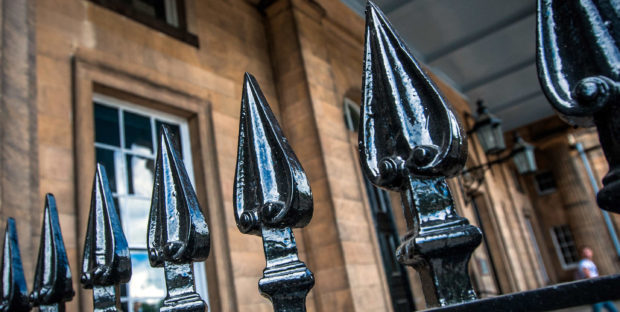 A former insurance agent at Aviva in Perth was jailed for 22 months after he admitted embarking on a "sophisticated, complex" embezzlement of almost £100,000 to fund his gambling habit.
Perth Sheriff Court heard how Aaron Williams, 29, of Hospital Street, Perth, gave fake refunds to customers between 2012 and 2015 and paid the money he accrued from this into nine bank accounts.
The court was told that the vast majority of the embezzled money had been authorised by Williams, using his unique Aviva system identification.
He was caught out when a colleague noted that payment was being made to an account which did not appear to be linked to a customer.
The insurance giants called in their main investigations officer and this led to Williams being targeted for the fraud.
He admitted that between November 1, 2012, and May 6, 2015, he embezzled £90,000 while working as an employee of Aviva Plc, Pitheavlis, Perth.
Depute Fiscal Alan Morrison said: "The accused was reported to the police and Aviva has managed to recover £51,938.32 from him since his arrest.
"The money he embezzled was paid into nine bank accounts over the period in question – all of them relating to the accused."
Solicitor David Holmes, defending, told the court that his client had carried out the embezzlement to fund his gambling addiction at the time.
"My client was surprised by the full amount of the embezzlement," he said.
"He told me that when he looks back to this offence it seems like he was another person. He has been given the support of his family but this offence has affected him in many ways in terms of his personal life."
Mr Holmes asked Sheriff William Wood if he would consider giving Williams a compensation order, stating his client had found other employment and could pay the money taken on a monthly basis.
However, Sheriff Wood told Williams the only option open was to impose a custodial sentence.
"I have considered this case very carefully," Sheriff Wood told Williams.
"You were previously a law-abiding person who was not accustomed to appearing in court. However, this was a sophisticated, complex case involving you embezzling £90,000 from your employers, which took place over two-and-a-half years.
"It substantially inconvenienced your customers who were anticipating premiums from Aviva. Instead, you put this money into nine bank accounts and the only sentence that is appropriate is one of imprisonment."
Williams was jailed for 22 months.