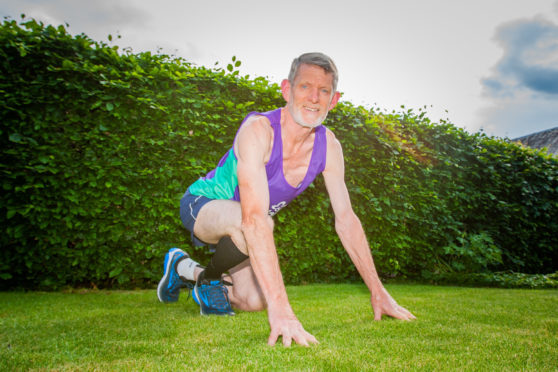 At 69, most would want to put their feet up on a relaxing holiday.
But not Gordon Semple, the Crieff electrician who is spending his summer running five half marathons in the Hebrides for charity.
Gordon is preparing to take on race number three on Saturday and has already raised more than 16 times his original target of £100 for Debra, the charity for epidermolysis bullosa, a painful skin blistering condition.
He has already completed two of the 13-mile runs in Stornoway and Benbecula, as part of the series of five across Skye and the Western Isles, a challenge only completed by 11 people last year.
This weekend Gordon faces races number three, the Skye half marathon, and is hoping for cooler weather than the scorching heat he faced in Stornoway on May 26 and Benbecula last weekend.
"The last two have been really difficult because of the sun, it's really hot for distance running," he said.
"The heat is very draining, you can't concentrate on anything else.
"I've been just a fraction over two hours in the first two races. My aim was under two hours but the heat has stopped that.
"I still have three to go so hopefully the weather will be cooler so I can be a bit quicker."
Many of Gordon's supporters who have contributed to the £1,600 raised so far have been impressed at him taking on such a feat at his age, but he remains unfazed.
"People keep telling me they couldn't do it, especially not at my age, but there are a lot more older people running now," he said.
"I used to run marathons in my 30s and could do them in three hours, running is in my blood."
Gordon has planned a holiday in Harris between his final two races, in Barra on June 30 and Harris on July 7. A regular visitor to the Western Isles, he was only planning the runs for his own enjoyment until offers of sponsorship began flooding in.
"When I was chatting to customers about holidays and plans for the summer they were all offering to sponsor me without me asking so I thought if I'm doing it anyway I may as well raise some money for charity," he said.
"I picked Debra after watching a documentary on the skin condition, they do a lot of good work."
Epidermolysis bullosa (EB) causes skin to blister and tear at even the slightest touch. It can be fatal in some cases as internal linings and organs can also be affected.
Debra provides care to those suffering, as well as funding research to find new treatments and hopefully a cure.
Gordon's fundraising page is open until August.