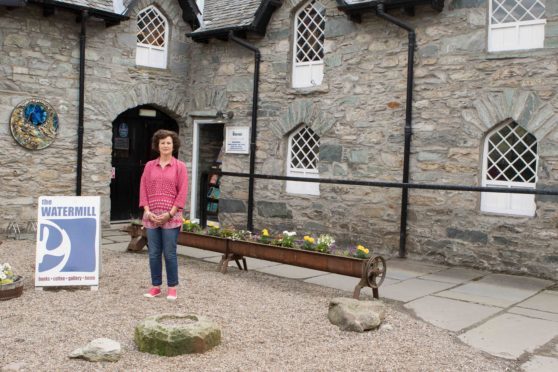 Highland Perthshire shops and tourist attractions fear they will be put out of business if a proposed road closure gets the green light.
Part of the busy A827 near Aberfeldy will be out of action for several weeks from the end of August, to allow repairs to the Cultullich crossing.
But worried local business owners say their takings will suffer an unaffordable hit if tourists are cut off from the town at the height of summer.
Perth and Kinross Council insists the work must be carried out at this time due to SEPA restrictions, sparked by salmon spawning season and the presence of otters in the Cultullich burn.
Last week council leader Murray Lyle said officers are looking for ways to keep the road open but Aberfeldy residents remain worried.
Avril Taylor, owner of Wishing Well card and gift shop and secretary of Aberfeldy Small Business Association, said: "We are still seriously concerned. If the closure does go ahead there will be businesses that just won't survive.
"The English tourist season is August and September so it is a crucial time for us. Some business owners are saying if it happens they may as well close now."
The seven-week closure could compound an already difficult 2018 for the businesses, who lost out on tourist trade at the start of the year due to bad weather and are suffering since RBS closed its Aberfeldy branch last week.
"We are a remote community and we just lost the bank too. It seems like we are losing more and more and are expected to survive with less. It's hard to stay upbeat at the moment," Avril added.
The bridge has been shored up temporarily, following a landslip four years ago, but engineers believe a long-term solution is needed to avoid a catastrophic collapse.
The embankment also carries the main BT fibre optic cable which provides internet services for the Aberfeldy and Kenmore areas.
The work will involve excavation of about 16ft, as well as the construction of a new concrete retaining wall and restoration of parts of the bridge.
Marion Murdoch, manager of Watermill bookshop and café, also owns the Courtyard delicatessen in Kenmore with her husband, Henry.
She warned that there will be uproar in the community if a way to keep the road open is not found.
"This will put people out of business, there's no doubt about it," she said.
"Some of the businesses here don't make any money in January and February so they rely on the tourist season to make up the difference. Without that they won't be able to keep going.
"The local people just won't put up with it, it's a non-starter."
Donald Riddell, director of Highland Safaris, said: "The impact will be huge if this goes ahead. August to October is really busy, in fact October is often busier than August.
"We have coach tours with international visitors and there just isn't an alternative for vehicles of that size.
"If they're not visiting us they're also not visiting the hotels and restaurants so the knock on effect will be huge."
It is thought the issue will be debated at a full meeting of the council on Wednesday June 20, if a solution is not found before then.
Councillor Angus Forbes, convener of environment and infrastructure, said officers are working to find a way to maintain access.
"The feedback received directly and via ward councillors is now being considered, including exploring the costs of bringing in a temporary bridge to allow one lane of the road to remain open," he said.
"Officers are considering this option along with all feedback received as part of continued planning for this piece of work."
Councillors talk of "grave concern"
Two Highland Perthshire councillors have written to the leader of Perth and Kinross Council to express "grave concern" about the closure of the A827.
Independent Xander McDade and the SNP's Mike Williamson co-signed a letter to local authority leader Murray Lyle, urging him to approve a Bailey bridge or temporary road for the duration of the repairs.
This has not been included in the funding for the Cultullich burn repairs so the two opposition councillors are calling for money to be taken from reserves.
The letter said: "It is our view that the closure of this main arterial route across Highland Perthshire would be devastating for local businesses, who have already experienced an incredibly high number of local road closures this year.
"Aberfeldy has already lost a number of businesses in recent times. These losses have hit the town hard and the economy is already fragile."
As well as the impact on local businesses through loss of trade, they highlighted the risk of lorries and fuel tanks being unable to access Aberfeldy due to the narrow diversion, as well as the dangers of school buses having to take the route.