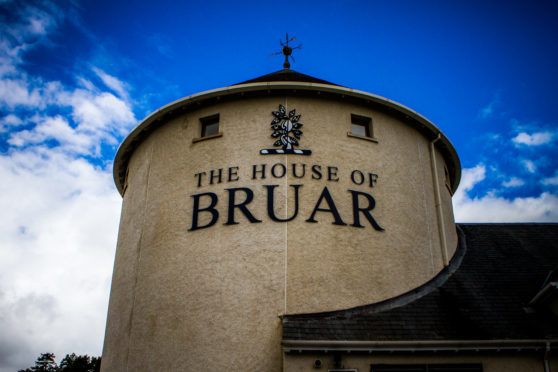 One of Highland Perthshire's best known retail companies wants to expand its mail order operation due to "continued growth" of the business.
House of Bruar, whose main shop and café is located near Blair Atholl, has submitted a £500,000 proposal, consisting of a revised layout and design of its Ballinluig operation.
The company states it has seen an increase in its mail order service, and claims it is necessary to expand the office site at Inch Farm, Ballinluig.
A spokesperson for Ristol Consulting, speaking on behalf of the House of Bruar, also revealed the company has a "resilience strategy" devised to cope with any possible negative impact on sales at its retail base at Bruar caused by the A9 dualling programme.
"The consented office at Ballinluig is not sufficient to accommodate the growth in staff numbers with the requirement for an additional 14 new staff," the spokesperson said.
"Furthermore, as part of the House of Bruar's recruitment strategy, there is a necessity for staff accommodation which is currently provided within the farmhouse at Ballinluig and it's proposed to increase provision with a further three bedrooms along with associated welfare facilities."
He continued: "The Ballinluig site performs a critical function for this part of the House of Bruar business in terms of mail order and in recent years, the facility located at Inch Farm has expanded to comprise three operational warehouses and an office within the existing farmhouse.
"The capital cost of this investment will be in the region of £500,000. It is proposed to commence work on the Ballinluig site during the summer to enable recruitment and operation at the location by the end of the year."
Perth and Kinross Council granted planning permission in 2015 for a further four warehouses to be built at Inch Farm, Ballinluig, along with the creation of a 100 square metre office, which formed an extension to the farmhouse.
Further consent was given the same year for additional car parking at the site.
Two of the four warehouses have been built, with the remaining two subject to a restriction pending the A9 dualling.
The spokesperson for House of Bruar added the design process of the latest proposal lodged with the local authority has been the subject of pre-consultation reviews with the council and statutory consultees including Transport Scotland and the Scottish Environment Protection Agency.