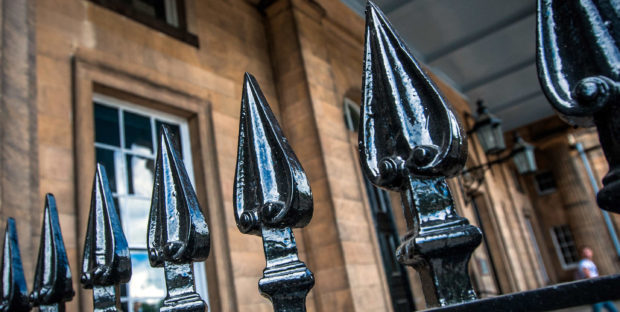 A part-time member of the Territorial Army was caught near a public park with a bow and arrow and a lock-knife and wearing a weightlifter's belt.
In a case described by Sheriff Lindsay Foulis as "bizarre", Perth Sheriff Court heard how drunken Leon Burden-Roberts of Raeburn Park, Perth, was discovered by police hiding under a tree near Perth's South Inch.
The court was told  the 27-year-old electrical engineer told officers he had used the lock-knife for gardening earlier in the day and had intended shooting the bow and arrow in the early hours of the morning in the park.
Depute Fiscal Bill Kermode said: "Police were on patrol around 1.50am dealing with an unrelated matter when they saw the accused under a tree near a garden fence in Glenearn Road, Perth. They noticed he was dressed in shorts, a t-shirt and had a weightlifter's belt around his waist.
"Because of his demeanour, the officers approached him and they noticed he was trying to conceal an item."
Mr Kermode added: "The accused was charged and told police he was suffering from depression and anxiety and also claimed he had post-traumatic stress disorder."
Solicitor Steve Lafferty, defending, conceded the circumstances were "unusual."
"My client had been gardening and drunk a lot of alcohol, fallen asleep and then discovered the bow and arrow set," he said.
"He had used the lock-knife when gardening."
He continued: "My client has a back problem so that is why he was wearing the weightlifter's belt."
Mr Lafferty told the court he did not think the bow and arrow was a toy set but could not verify this.
Burden-Roberts had admitted that on April 22 at a footpath from Glenearn Road, leading to South Inch, Perth, he had a sharply pointed blade in his possession, namely a multi-tool lock-knife.
Sheriff Foulis said he found the circumstances narrated in court "odd" and called for more information before sentencing.
"If someone was trying out a bow and arrow in a park at 1.50am they would have a problem seeing where the arrow went," he told the court.
"To have a man wearing shorts, a t-shirt and a weightlifter's belt around his waist and in possession of a lock-knife is frankly bizarre. Perhaps there is something more sinister to this and I would be failing in my duty not to look into this and get more information."
Sheriff Foulis asked Mr Lafferty to obtain information from his client's doctor regarding Burden-Roberts's back problem and also to get details of any diagnosis of depression or anxiety he may have raised with the GP.
Sentence was deferred until July 18.