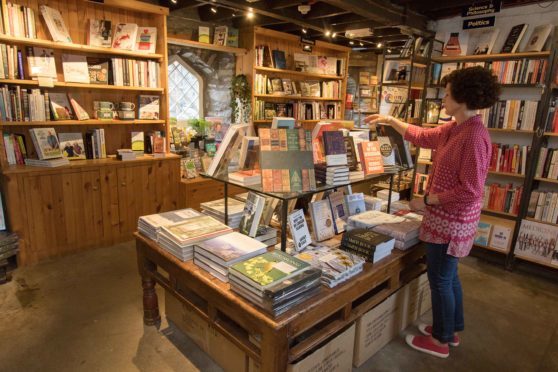 A rural Perthshire community has been saved from potential disaster after repair work which would have seen the main road into the town closed was pushed back.
Aberfeldy business owners feared they would not survive the year after it was revealed Perth and Kinross Council planned to close the A827 for seven weeks to carry out bridge repairs.
Now the council has agreed to delay the work until next year, so officers can find a way to keep the road open.
It had been suggested the route would need to be shut off from the end of August until October to stabilise the crumbling Cultullich crossing.
The proposal sparked outcry from local businesses, who rely on the tourist trade to survive.
But last night the council confirmed the work will take place next year, to allow time to find a way of keeping the road open, such as installing a temporary bridge.
Henry Murdoch, owner of the Courtyard Delicatessen in Kenmore, hailed the U-turn as people power.
Aberfeldy businesses may be forced to shut up shop due to tourist season road closure
"We are all delighted, it's fantastic news," he said.
"This will be sold as a political decision but it was absolutely a people's decision.
"It just shows you what can be done when a community comes together all signing from the same hymn sheet."
The work must take place in the summer due to the salmon spawning season and the presence of otters in the Cultullich burn.
Last night's announcement came as Highland Perthshire councillors Xander McDade and Mike Williamson lodged a motion to be debated at the full council meeting next week, saying closing the A827 would be "unacceptable".
Councillor Williamson said: "The council had planned to press ahead with closing this vital road for up to seven weeks – something which I have argued is totally unacceptable.
"I understand that the council are now looking at delaying the work until 2019 and whilst I am sure that people will welcome the reprieve, it is essential that when this work is undertaken that it is done with as minimal disruption as possible.
"We need assurances that a baillie bridge or similar replacement is put in place by the council in order to maintain access for businesses, locals and tourists alike.
"It is clear that this will cost money but this is why the council maintains a reserves budget.
"It is vital that they commit to using some of this budget to keep this vital road open."
The pair also co-wrote a letter to council leader Murray Lyle calling for him to intervene.
Councillor McDade said: "It's safe to say the community is very pleased.
"There has been understandable concern about the effect this would have on what is already a fragile economy in Aberfeldy and across Highland Perthshire.
"I'm very pleased the efforts of both myself and Councillor Williamson to put political pressure on the administration have paid off and common sense seems to have prevailed."
Councillor McDade also pledged to make sure a closure does not happen when the work is carried out next year.
"We are hoping that the next time this comes round the consultation will be started much earlier," he said.
"Now that we are aware of the situation we will be keeping a very close eye on it.
"The council officers are very aware of our position now so we will be looking to work with them to find a solution for when the work is carried out."
Perth and North Perthshire MP Pete Wishart also welcomed the news.
He said: "I am pleased to hear that the council may already be changing the plans for this necessary repair programme.
"This is clearly due to the significant concerns raised by local councillors and the business community.
"Perth and Kinross Council must commit to putting in place a replacement crossing of some description which will keep this road open.
"Any other solution would be unacceptable to the people and businesses of Aberfeldy who are already reeling at the loss of the RBS branch."
Councillor Angus Forbes, convener of environment and Infrastructure, said: "We have listened to the concerns raised by local residents about the impact a full road closure would have on the area while this work is going ahead.
"While it remains the fastest and safest way to undertake the work, officers have been actively exploring alternative options.
"Postponing the work to 2019 will allow officers to fully explore these alternatives before engaging with elected members and the local community in advance of the work being undertaken."