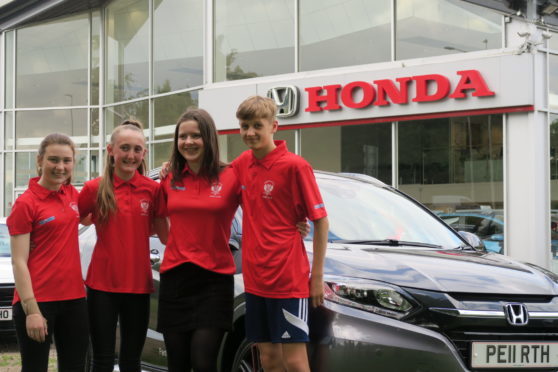 A car dealership is helping to drive future success for a group of young athletes from Perth City Swim Club.
Perth Honda has given extra "horsepower" to the group of 17 swimmers by sponsoring their fundraising race night in the city on Saturday night.
The swimmers – including World Champion and Olympic and Commonwealth medallist Stephen Milne – are raising funds for a warm weather camp in Tenerife later this year.
The group have been busy raising the £2,000 cost of funding two volunteer coaches to help head coach Ann Dickson run the camp at the T3 facility.
The weekend race event at Craigie Hill Golf Club is the final push by the swimmers to smash through their final target and Perth Honda have agreed to be the main sponsor for the evening.
Perth City Swim Club President Carol McPartland said: "We are delighted that Perth Honda has chosen to link up with our national squad swimmers for this event.
"The swimmers have managed to bring in a lot of individual sponsors who have donated prizes for the evening and tickets have been selling fast.
"To get a prominent local business like Perth Honda to support our swimmers is great and they are very confident of pushing past their overall fundraising target on the evening."
Mike Dand, General Sales Manager at Perth Honda said: "Perth City has built a reputation as one of the country's top clubs with a number of swimmers competing at the very highest level.
"We offered to help sponsor the squad's race night this weekend after hearing that they had already been working hard to fund the trip for two unpaid coaches.
"We know how hard the swimmers work and this will be a great opportunity for them to enjoy a family night out while raising money at the same time.
"I am sure the event will be a great success and Perth Honda are delighted to play a part in that."
A total of 17 swimmers – aged from 13 upwards – have been selected to go on the week-long warm weather training camp at the Tenerife Top Training facility in October.
Head coach Ann Dickson said: "Warm weather camps are a key part of the long-term strategy for our top squad of swimmers targeting national and international competition.
"The swimmers all pay their own way, but to have financial support from the likes of Perth Honda helps support the two additional volunteer coaches who will be joining me."