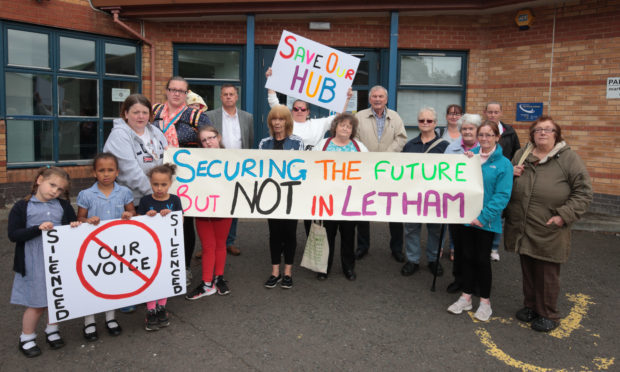 Plans for a major health complex at Perth's biggest estate have been thrown into jeopardy, after its budget was sliced by more than 60%.
Councillors voted through a controversial spending plan on Wednesday, which will see funding for the Letham Wellbeing centre cut from £2.8 million to £1.25 million.
The local authority has said the centre will still go ahead to meet the needs of the community, offering vital health services.
But locals say if it does go ahead, it will be a pale vision of what was originally offered.
Perth and Kinross Council agreed to cut the budget for several projects to help pay for the £50 million redevelopment of Perth High School.
The spending plan has also thrown the £25m PH20 project into doubt.
Laura Anderson, of the Letham Residents Association said: "I'm enraged and disappointed that yet again the biggest community in Perth is being left with fewer facilities."
Jon Kidd, who is chairman of the Letham4All charity which was set-up to help run the new centre, said: "The council has spent about £250,000 designing the hub.
"The money which was allocated for this project was specifically allocated to meet that design. So in changing the budget, they are going to have to go back and redesign the building and that is going to eat into this £1.25m."
Residents Association member and former councillor Elspeth MacLaughlan added: "Letham is bigger than Aberfeldy or Pitlochry, yet it doesn't have a single medical surgery.
"One of the ambitions of this project was to create a medical facility for the area, for the first time since the houses were built 60 years ago."
Liberal Democrat councillor Peter Barrett said the administration was forced to make difficult decisions because the Scottish Government's Scottish Futures Trust had refused to contribute to the Perth High project.
"Having been let down by the Scottish Government, this administration has grasped the nettle and is taking positive steps to deliver a new school building and learning environment fit for the 21st century."
He said £1.25m for Letham Hub made it "deliverable and sustainable".
"This administration remains committed to supporting the delivery of this project, which will meet the community's needs and deliver essential health and family services, contributing to better outcomes and reducing inequalities."
Conservative MSP for Mid Scotland and Fife Murdo Fraser welcomed the budget, saying it would be "transformational" for the area.
SNP MP Pete Wishart said that communities will "quite rightly see this as a betrayal" by the Tory-led administration.