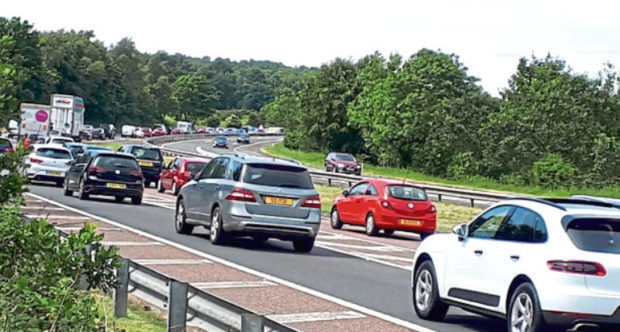 Motorists could face a repeat of frustrating delays caused by major roadworks which saw arterial routes surrounding Perth choked with traffic at the weekend.
Thousands of drivers experienced miles of queues with traffic nose-to-tail on the by-pass from Craigend to the Broxden roundabout on Saturday and Sunday.
Some people reported having to sit in their cars for almost an hour to travel around Perth from Bridge of Earn to the Inveralmond roundabout.
Long queues of traffic stretched back as far as the slip roads from the Friarton Bridge and the M90 motorway onto the by-pass.
Bear Scotland, who are behind the £900,000 roadworks, conceded it was "inevitable" there would be disruption as a result of the month-long scheme, which began in full on June 7.
The six-phase scheme includes three, 24-hour weekend projects. The last weekend of work will begin at 7.30pm on Friday and could lead to yet more disruption.
The expansive project is required to repair roads following the "extreme winter" conditions the country faced.
The work involves resurfacing and improving road markings.
Scores of irate drivers hit out at the disruption caused by the weekend roadworks at Broxden roundabout.
Andrew Johnston, 52, of Hilton Farm, Craigend, witnessed how events unfolded first hand on Saturday.
"When I saw the length of the queues going as far as the Craigend slip road with some cars stuck just off the Friarton Bridge waiting to join the road to Perth I thought there had been a bad accident," he said.
"I looked at some websites when I got home but there was nothing reported about delays in this area– only some information saying there were ongoing roadworks at the Broxden roundabout.
Adam Wilson, 39, of Kinross, was equally scathing.
"This was unbearable," he said. "There were caravans, lorries, buses as well as thousands of cars stuck in these queues. To think it may well be the same situation this coming weekend is horrendous."
Many drivers took to social media to express their anger.
Joan Blue posted on Facebook: "I joined the motorway at Bridge of Earn at 10.40am on Saturday and got to Inveralmond at 11.43am. Shocking!"
A spokeswoman for Bear Scotland advised motorists to use both lanes of the roads in order to lessen congestion and stressed the contraflow system currently in use is "essential" to ensure safety to the public and their staff.
"We would encourage people to utilise both lanes on approach to the roadworks before merging in turn to minimise queue lengths," she said.
"This phase is set to be completed by Monday morning.
"The ongoing improvements on the M90 and A9 are part of a wider £900,000 programme to upgrade this section of the trunk road network near Perth. Road users should plan their journeys in advance and check the Traffic Scotland website for updates."
preoch@thecourier.co.uk