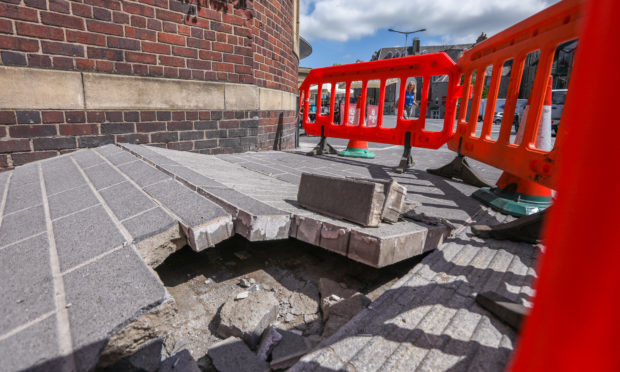 A Perth city centre pavement has buckled in the heat for a second time in three days.
A section of concrete walkway on Mill Street rose and broke on Thursday afternoon, as surface temperatures soared to 50C.
A guard was put in place to keep pedestrians away from the section which had raised to form a ridge, creating a trip hazard.
Engineers were scrambled to the scene, outside Kisa's Restaurant, and had the slabs repaired and smoothed out by Friday morning.
But the section broke again as the heatwave continued over the weekend.
This time, some brickwork was also broken away. The damaged slabs have been closed off by council crews, while officials work on a permanent solution.
A Perth and Kinross Council spokesman said: "Due to the extreme temperatures experienced over the weekend, there was another issue with same small section of footway on Mill Street, Perth.
"Surface temperatures were around 50 degrees in many sites in Perth and although rare, this can cause an expansion of the paving resulting in deformation of the surface."
He said: "Officers attended the site to inspect the footway and the decision was taken to cordon this area off to arrange for a permanent repair to take place as soon as possible."
Although surface temperatures in Perth city centre were around the 50C mark, it wasn't the hottest place in Perthshire.
Kiltyrie, on the banks of Loch Tay, recorded a temperature of 55.8C, but even hotter was Kinloch Rannoch at 56.4C.
Bemused shoppers in Perth city centre said watching the pavement rise and crack in the sun was "like something from a horror film."
The pavement was put in place only two years ago as part of a £1.5 million package of improvements.
The work, to create a "cultural quarter" in Mill Street, was led by the council.