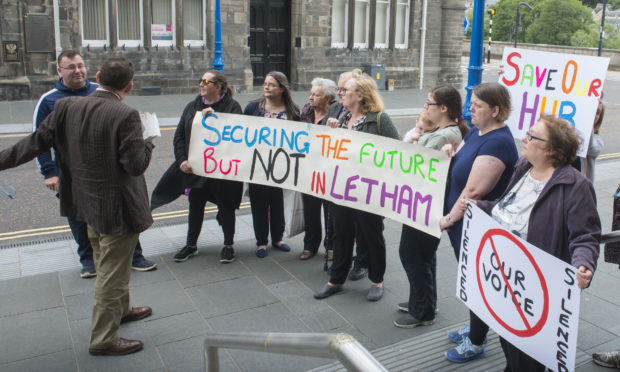 Councillors in Perth and Kinross are locked in a political war of words over plans for a Letham Wellbeing Centre.
It comes after the council controversially agreed to slash funding for the planned centre last month.
The project's budget has been cut by more than 60% from £2.8 million, to £1.25 million, after the authority decided to make the £50 million redevelopment of Perth High School a key priority.
Funding for the long-standing PH20 swimming pool and a planned £14 million replacement for Pitlochry Primary was also scrapped.
Council members and representatives from the charity Letham4All – which was set up to run the centre – met last week to discuss the future of the Letham hub.
While work goes on in the community, councillors are still bickering over the fallout from the decision.
SNP group leader for Perth and Kinross Dave Doogan directed his ire at Conservative councillor Harry Coates, for claiming a new build Perth High School will be a great thing for Letham.
"This reveals Councillor Coates has no idea that none of the four primary schools in his ward feed into Perth High School," he said.
"His decision to meekly vote for the direct transfer of investment out of Letham is truly shocking."
Councillor Coates responded: "We have already said that we will work with the community and committed £1.25 million last month.
"Councillor Doogan sat through the meeting and never once mentioned that the budget proposal he submitted would have cut nearly £750,000 from the project.
"Rather than launching personal attacks on me, Councillor Doogan would be better served in working with other councillors to ensure that we challenge the Scottish Government on their cuts."
Spokeswoman for the Green Party, Elspeth Maclachlan, said it was not too late to re-think the decision.
She said: "We are calling on the council to reverse the withdrawal of funding for the new Letham Health and Wellbeing Centre to ensure that it can be completed on time to provide a much needed facility for the local area."
On Friday, Letham4All received £25,000 of funding from Voluntary Action Fund, to help train and support volunteers for the next two years.