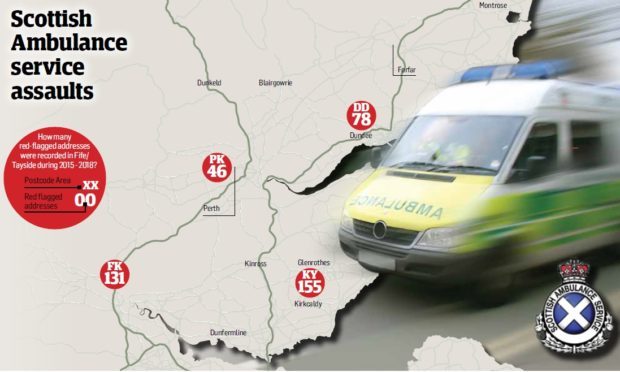 The number of addresses "red flagged" by ambulance crews in Tayside and Fife has more than doubled in five years.
A total of 279 homes across the region have been marked with a warning on the system after staff previously faced violence or threatening behaviour there.
Fife has seen a significant rise in the number of flags with 155 recorded in June 2018 — an increase of almost 130% since 2013.
The number of problem addresses also increased in Tayside over the period, jumping from 41 to 124.
Data from May 2013 showed the total number of red-flagged addresses amounted to 109.
Figures for  verbal and physical attacks on ambulance crews responding to emergency calls have also been revealed.
Official data released by the Scottish Ambulance Service through a Freedom of Information request showed a total of 92 assaults have been recorded in Courier Country since 2015.
Fife had the highest level of abuse directed towards crews with 59 incidents — 12 in this year alone.
Tayside had 26 attacks in the last three years.
Scottish Labour's Shadow Cabinet Secretary for Health, Anas Sarwar, called for tough action against those responsible.
He said: "Any attack on our hardworking NHS staff is simply disgraceful, and the culprits should be prosecuted fully.
"Paramedics are on the front line of our NHS responding to emergency calls when others need help.
"The last thing they should be worrying about when going to work is to be fearing for their own safety."
Conservative public health spokeswoman Annie Wells said: "No paramedic should ever fear for their own wellbeing, especially when they are dedicating their lives to helping others.
"We clearly need to do more to keep them safe, which means tough action from the courts when those assaulting, or threatening to assault, ambulance workers are caught.
"That's the least we could do to ensure these brave and indispensable employees can go about their work safely and effectively."
Earlier this year the Government revealed 6,509 common assaults were recorded on police, fire and ambulance workers across Scotland in 2016/17, equivalent to more than 17 per day.
A Scottish Ambulance Service spokesperson said: "Our staff should not have to fear for their safety when treating patients and keeping them safe is of paramount importance to us.
"That is why we have introduced a range of measures to help protect them – individual addresses where staff have previously faced violence or threatening behaviour are automatically flagged to our crews, who can then request additional support, if required.
"Ambulance staff are also trained in managing aggression and assessing risk, enabling them to better judge when they need to wait for support from the Police, or additional ambulance crews."
A Scottish Government spokesperson said: "We value the high-quality care that Scottish Ambulance Service staff provide, often under challenging and physically demanding circumstances.
"The Emergency Workers Act includes penalties of up to 12 months imprisonment, a £10,000 fine, or both, to be imposed following conviction for offences against ambulance staff and we extended this legislation in 2008 to include health professionals working in the community.
"For more serious attacks, other offences such as assault can be used which mean offenders can face penalties up to life imprisonment.
"All workers deserve protection from abuse and violence. Scotland's justice system provides protection for workers under common laws of assault, threatening and abusive behaviour and breach of the peace and our independent courts are best placed to consider sentencing in any given case taking into account the full circumstances of a case."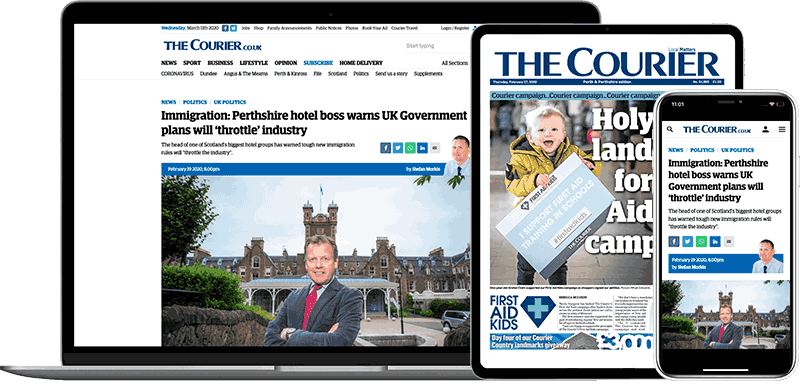 Help support quality local journalism … become a digital subscriber to The Courier
For as little as £5.99 a month you can access all of our content, including Premium articles.
Subscribe