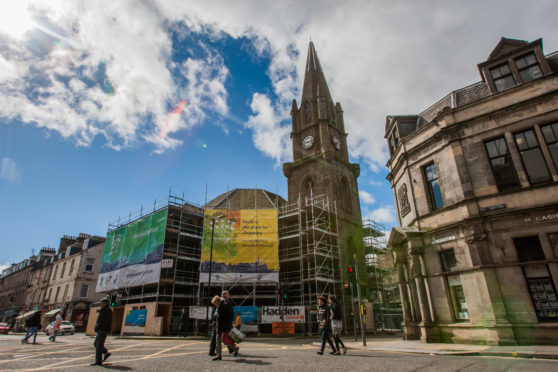 A £2 million vision for a notorious Perth eyesore has been approved, despite severe criticism from a heritage watchdog group.
Perth and Kinross Council has rubber-stamped plans to overhaul St Paul's Church, ending decades of uncertainty.
The local authority wants to transform the Gothic landmark into a public space for markets, exhibitions and events.
It is a key part of a wider council-led strategy to increase the cultural offering in the Fair City and bring in thousands more visitors.
The council bought the B-listed building in February 2017, more than 30 years after it closed to the public.
Over the years, groups and businesses have proposed turning the church into a restaurant, wine bar and "cultural resource centre" with cafe, tourist information kiosk and exhibition area.
However, the latest transformation plan has met with opposition from the Perth and Kinross Heritage Trust, which lodged a formal objection calling for the scheme to be scrapped.
Trust chairwoman Sue Hendry said the plan was "short-sighted" and "sets a bad precedent for treatment of the historic environment in Perth, gives a poor return on public investment in terms of cultural capital and is a missed opportunity to generate significant social, economic and training opportunities through the regeneration of this area of Perth."
In her report, planning officer Diane Barbary said: "It is clear that the current proposal is on the basis of minimising cost and risk, rather than best conservation practice.
"It is, essentially, a pragmatic approach with justification provided stating that the proposal would conserve and protect the main element of the building and allow for its full re-use at the lowest cost and risk."
She added: "While it is stated that the proposal would not preclude future restoration of the building, and that it is reversible, it should be noted that this is highly unlikely given the extent of the proposed works and the expense of reinstating the roof, windows and doors."
Ms Barbary said: "The appearance of St Paul's has deteriorated over the years, even prior to its closure as a place of worship. In terms of visual amenity, while the retention and full repair of the building would be a preferable outcome, the current proposal would improve on the present situation whereby the building is derelict and hidden by scaffolding."
With planning permission in place, work is expected to start in the coming months and could be ready by spring next year.
The church dates back to the early 19th Century. Architectural historian John Gifford stated in The Buildings of Scotland: "This battlemented tall Gothic octagon, fronted by an elegant steeple, is an exemplar of urban elegance."
St Paul's Church – a timeline of demise and decay
1807 – St Paul's Church built to a design by architect John Paterson.
Jan 1973 – Church roof required replacing.
Feb 1974 – Church threatened with closure.
1986 – Church closes.
October 1988 – Masonry falls from building.
October 1989 – Church bought by Cleddon Estates Investments Ltd.
July 1991 – Cleddon plan to 
turn church into a universarium and science centre but never 
materialises.
November 1994 – Church for sale.
June 1995 – Scottish Urban Archaeological Trust propose to use church for Perth Octagon Heritage Centre.
July 1997 – Heritage centre plan abandoned.
May 2003 – St Paul's Church Preservation Society float 
suggestion of turning the 
building into community halls.
Dec 2003 – St Paul's Church Preservation Society wound up.
February 2008 – JD Wetherspoon submit plan to convert church into licensed premises but proposal falls by the wayside.
March 2009 – Edinburgh-based curry chain Khushi's state 
interest.
January 2012 – Planning consent granted to Khushi's for change of use from church to restaurant.
November 2013 – Listed-building consent granted to Khushi's.
April 2015 – Sale of St Paul's Church to James Boyd, of Simple Marketing Global.
April 2016 – Urgent repairs notice served on owners.
Aug 2016 – Council makes building safe and enters negotiations to buy it back.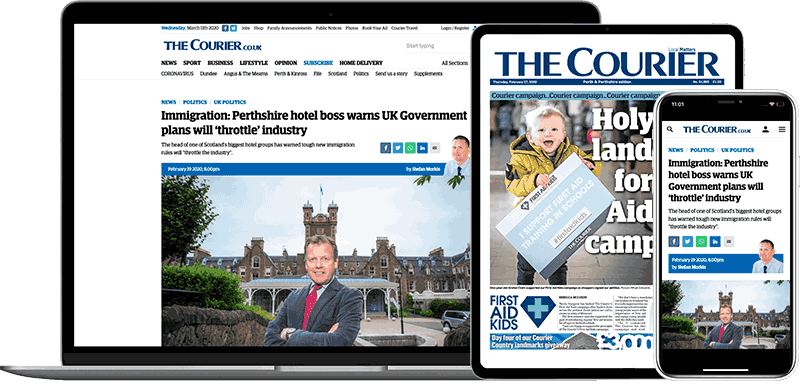 Help support quality local journalism … become a digital subscriber to The Courier
For as little as £5.99 a month you can access all of our content, including Premium articles.
Subscribe