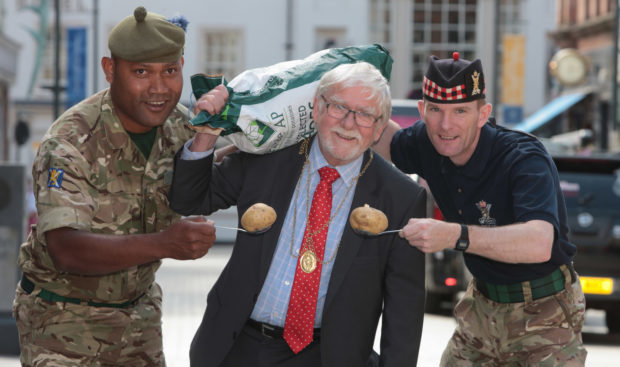 Perth locals have been urged to not be a couch potato, ahead of a new running event taking place in the city.
The inaugural Great Perthshire Tattie Run will take place in August, creating a peculiar sight around The Fair City.
Locals will take part in approximately a mile-long race, with a sack of potatoes held on to their back.
The run will take place around Perth City Hall, with men carrying a 20kg bag and women lifting a 10kg bag.
The event takes place as part of the council's medieval festival, where Perth's ancient roots will be celebrated.
Men and women will sport armour and shields in a day of festivity.
Perth and Kinross Provost, Dennis Melloy, joined the event organisers and representatives from the Armed Forces on Thursday to promote the new race.
He said: "This is a fun addition to the many and diverse events that Perth hosts each year.
"It also reflects the role of the food and drink and agricultural sectors here in Perth and Kinross.
"I hope lots of people, young and old, will give the Great Perthshire Tattie Run a try next month."
Great Scottish Events co-director, Andy Waugh, said: "We were very impressed with the team at Perth and Kinross Council and their enthusiasm to bring unusual, diverse and fun activities to the Perthshire area.
"We hope residents around Perth and Kinross will embrace this event and take part as an individual, team or as a family to support a fun community activity.
"Thanks to the support of our sponsors Greenvale AP, local charities and groups will benefit as they can raise vital funds by taking part.
"Additionally, any leftover tatties will be distributed to local lunch clubs, shelters and foodbanks, which means everyone is a winner."
The event will be held on August 11 with a full afternoon of races on offer.
Medals will be on offer for the winners, but if you can't succeed, each participant can take away their bag of tatties.
Starting at 2pm is the men's and women's individual races, before a relay run and a children's run.
The event is free for all and you can sign up at www.greatscottishevents.org.uk.