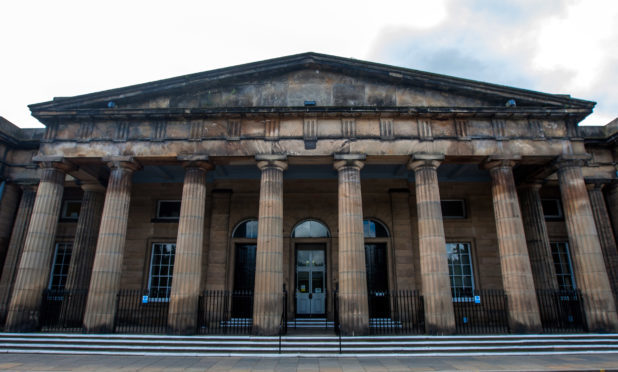 A factory worker has been jailed after police uncovered a stash of firearms, including chemical weapons banned for use in international warfare, at his home in Perthshire.
Officers raided the Auchterarder property where father and son James and Stuart McCullie live as part of a probe into extreme bestiality pornography.
McCullie Snr, 61, originally faced allegations connected with obscene images, but the charge was later dropped by prosecutors.
However, police uncovered a cache of weapons including live CN gas cartridges – or tear gas – that son Stuart had bought over the counter in Germany when he was 16.
Now 41, McCullie Jr told police he had meant to hand in the cartridges to police "after Dunblane" but never got round to it.
At Perth Sheriff Court, he admitted having seven prohibited Flobert gas irritant cartridges, as well as a started pistol capable of discharge noxious liquid or gas.
McCullie Snr also admitted having prohibited ammunition, namely five long rifle cartridges which were which are designed or adapted to expand on impact.
The haul was found during the police raid at Hillhead Farm Steadings in September, 2015.
After a lengthy proof hearing on Thursday afternoon, Sheriff Lindsay Foulis ruled there were "exceptional circumstances" that meant a mandatory five-year jail term for possession of the CN cartridges was "disproportionate".
McCullie Jr was jailed for two years, while his father was ordered to complete 300 hours of unpaid community work.
Sheriff Foulis said he was satisfied that McCullie Jr knew that the cartridges were in a drawer at the family home. "There were other things in that drawer and it seems to me that this was a hiding place for things which he did not want others to know he had," he said.
The sheriff told McCullie Jr: "I am satisfied that you knew you should have handed in the item when the amnesty was in place and it was a deliberate decision on your part not to do that.
"And there was always the possibility – no matter how small – of these items falling into the hands of someone with nefarious intentions."
Solicitor David Holmes said McCullie Snr, a former soldier, had planned to present his cartridges in a display case alongside his medals.
Mr Holmes said that McCullie Jnr had been naive about the firearm and cartridges, but stressed they were not lethal.
The so-called dumdum bullets are designed to spread when they hit their target, increasing the diameter to produce a larger wound.
They are often used for hunting, but are generally prohibited for use in war by international convention.
The court was previously told the CN cartridges were tear gas used for riot control by some police forces, but they are also banned in warfare.
Tear gas, formally known as lachrymator agent, is a chemical weapon that causes severe eyes and respiratory pain, skin irritation, bleeding and even blindness.