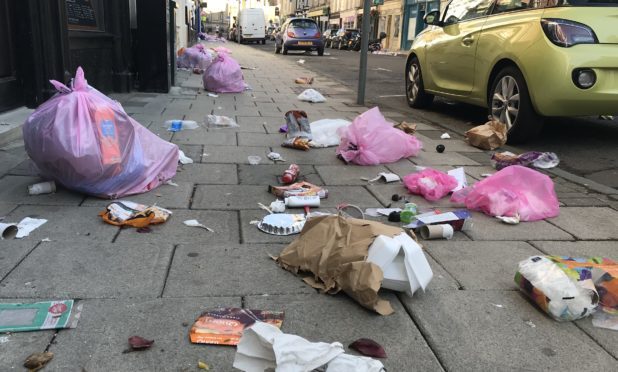 Councillors will be urged to approve a new kerbside collection strategy aimed at ending gull scavenging in Perth city centre.
Traders have renewed demands for action after rubbish bags were ripped open by hungry birds, leaving a mess of discarded packaging, tins and teabags across George Street.
Residents and businesses place pink sacks of rubbish on the pavements for collection because there is not enough room for wheelie bins.
Perth and Kinross Council has confirmed a report proposing the use of skip-style communal rubbish containers will go before the environment and infrastructure committee on September 10.
It follows a successful lengthy pilot schemes elsewhere in the city.
Residents and businesses around George Street have been calling for communal containers to stash their refuse sacks on collection days, for more than a year but council officers have had difficulty deciding where to put them.
A spokesman said: "Proposals for Perth City Centre containerisation will be presented to the next Environment and Infrastructure Committee in September."
He added: "There are currently 847 properties that use the pink sack collection service, due to a lack of space for wheelie bins.
"These proposals will provide communal bins for the collection of general waste, which will remove the need for the pink sack collection service and help improve the visual appearance of the City Centre."
The spokesman said: "The proposals will also provide residents with convenient access to facilities meaning they won't need to store rubbish between uplifts. The benefits of this approach have been proven by successful year-long trials at Scott Street and New Row, Perth."
The local authority has been working with retailers to look at ways of sprucing up George Street and attracting more footfall.
A controversial plan to install parklets and seating – removing some car parking spaces – was rejected after opposition from shopkeepers.
Other methods, including new art and gateways, are being considered.
A colourful new sign was this week installed at the foot of High Street, directing shoppers onto George Street.
It reads: "Walk this way to more fabulous indie shops and our amazing Museum and Art Gallery."
Craft beer giant Brewdog is poised to move into the street.
The Aberdeenshire firm has applied for a license to take over a now vacant cafe, opposite the city's historic museum.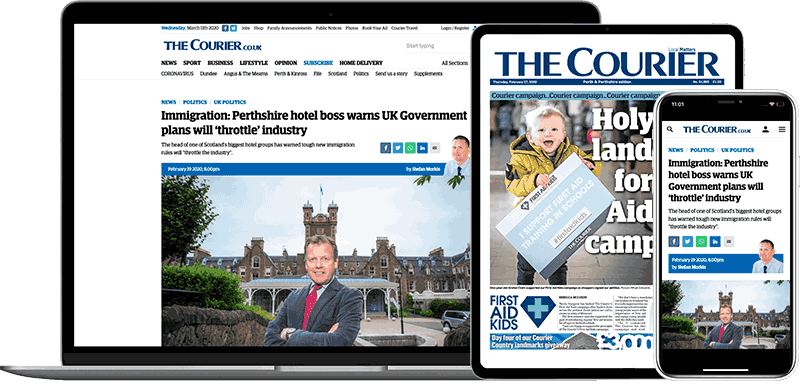 Help support quality local journalism … become a digital subscriber to The Courier
For as little as £5.99 a month you can access all of our content, including Premium articles.
Subscribe