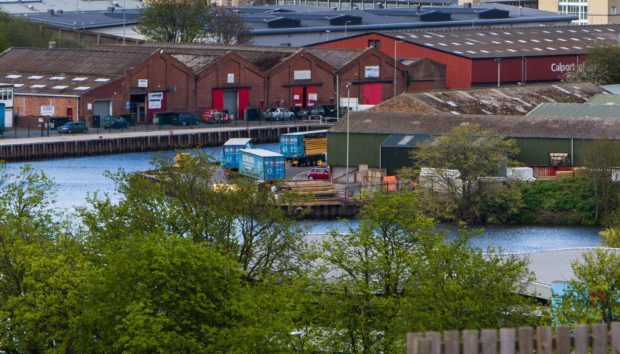 Calmac Ferries has taken control of troubled Perth Harbour.
The firm has promised to reverse the once-thriving port's fortunes after a dramatic drop in business.
Calmac, which operates dozens of harbours across Scotland, struck a £700,000 deal with owners Perth and Kinross Council to take on harbour master responsibilities for the next five years.
A recent study found the port, which had debts of more than £1.2 million, was making a net loss of nearly £230,000.
A 2016 business plan proposed almost £1 million of investment, including dredging work, to make the harbour break even by 2021.
However, experts warned in April if the business plan was not revised, the harbour was unlikely to recover its costs before 2034, if at all.
Plans for a £870,000 dredging operation, which some say is crucial to the harbour's future, have yet to be approved.
Calmac's Head of Ports and Harbours Cameron MacPhail, said: "We've come in as harbour operators and we are going to manage the site and the marine traffic.
"Any decisions about infrastructure and capital investment will still rest with the council."
He said: "Our main focus is to get more marine traffic back through the port again. About 20 years ago, there was something like 200 ships in a year, now we're down to about 15 or 16.
"The plan is to start marketing the harbour effectively, while working with the main tenants to start bringing in extra traffic."
New Harbour Master John Taylor said the port will benefit from fresh drive and enthusiasm under Calmac.
Managing Director Robbie Drummond added: "We are delighted to be working with Perth and Kinross Council to further develop Perth harbour as a valuable asset for the city.
"We see the potential, and will be bringing out experience of running 26 harbours across the west coast to deliver the commercial opportunities that we believe are there to be realised."
The take-over was welcomed by Conservative councillor Chris Ahern, who is chair of Perth Harbour Board.
He said: "I am optimistic that, thought CalMac's new day-to-day role, the level of business brought through the harbour can be increased and its place within the city's commercial business operations is enhanced, adding to the vibrancy of Perth and reflecting our location in the centre of Scotland and the easy direct access to trunk roads to all parts of the country."
He added: "This is a welcome opportunity to work with a major Scottish firm which the harbour board has fully go behind and, together with the council, we are focused on a brighter future for Perth Harbour."