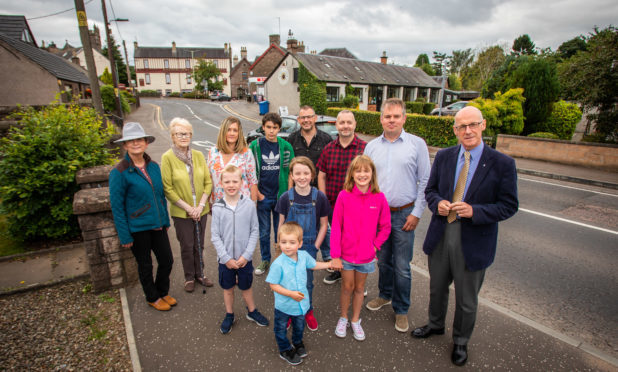 Road safety campaigners have welcomed moves to put the brakes on speeding motorists at a rural Perthshire village.
Perth and Kinross Council has confirmed a package of improvements for Meigle.
It follows a campaign by determined residents, who found that around half of the vehicles coming into the village were travelling above the speed limit.
In a letter to local SNP MSP John Swinney, the council's head of environmental and consumer services Willie Young outlines a range of new features.
Traffic signals installed at the A94/B954 junction will default to red and only change when sensors detect a vehicle approaching, Mr Young said.
Electronic signs will be fitted to Forfar Road and Dundee Road, while 40mph limits are proposed on each of the three main routes in and out of the village.
Mr Young said a request for a 20mph speed limit will be assessed following a region-wide review of the council's 20mph strategy. The results of the study will be reported to councillors before the end of the year.
Kevin Stirling, who heads the Safer Meigle Campaign, said: "The residents in Meigle have been concerned about road safety in the village for a number of years.
"The Safer Meigle Campaign was formed to bring these concerns under one banner."
He said: "To date we have identified that 50% of vehicles entering the village are travelling over the speed limit, with commercial trucks and vans exceeding the 30 mph limit most frequently.
"We are grateful for the support we have received from Perth and Kinross Council, local councillors and John Swinney to date in raising awareness of this campaign."
Mr Swinney, who met with campaigners to discuss the proposals on Wednesday, added: "I was delighted to learn that Perth and Kinross Council have taken onboard the concerns of the village.
"The Safer Meigle campaign is a fine example of local residents coming together to create positive change within their community. From attending the group meetings, I have witnessed first-hand the dedication of those involved.  I am pleased, therefore, that I was able to positively engage with the campaign and make representations on their behalf to the decision-makers at Perth and Kinross Council."
He added: "Hopefully, the new traffic control measures will address the very real issue of speeding within the village and ensure that Meigle is safe for both drivers and pedestrians going forward."