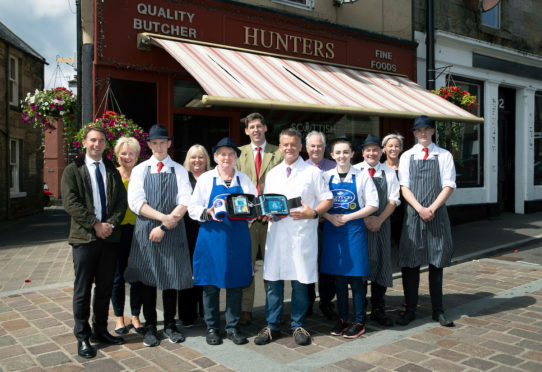 A campaign by a self-proclaimed "wee wifey" in Kinross to save lives across Scotland has captured the attention of one of Scotland's most senior politicians.
Pamela Hunter, who owns Hunters of Kinross butchers with her husband Iain, is on a mission to have life-saving equipment installed in every high street in the country.
After the death of one of their most loyal customers, David Doig, at the beginning of last year, Pamela began raising money for a defibrillator outside her shop and within a month had raised almost £3,000.
Spurred on by the success, she is now working with Perth-based Scottish Craft Butchers to install one at the stores of all 400 craft butcher members.
She was then approached by Lord Duncan, the under-secretary of state for Scotland, who thinks the campaign can be rolled out across the UK after visiting this week.
Pamela said: "David had been in butchers few days before he had a cardiac arrest.
"We were all devastated and that's what made me want to take action.
"There were already seven defibrillators in the town but none of them are available out of hours. We started with a wee tin asking for donations for a defibrillator and within about three or four weeks we had almost £3,000."
There are now eight publicly accessible defibrillators in Kinross and more than 500 people living in the town have been trained in CPR by first responders from the Scottish Ambulance Service.
Another 75 butchers across Scotland have signed up to Pamela's campaign, Butchers at the Heart of Communities, and have either installed defibrillators or are fundraising to do so.
Pamela said: "I have been so lucky I have had so much support with it because I'm just one wee wifey with a butcher's in Kinross, trying to do something good which has completely grown arms and legs.
"Lord Duncan thinks it could be rolled out UK-wide because butchers in Ireland and the north-east of England have already shown an interest. I'm hoping he can help drive it forward."
But Pamela has said there are thousands of defibrillators across Scotland which are not registered until the Scottish Ambulance Service and is calling on all businesses with the equipment to sign up so emergency service operators know where the nearest one is.
"There are thousands of unregistered defibrillators in doctors, dentists and sports clubs," she said. "If someone has a heart attack and someone else phones 999, the operator won't know it's there but if it's registered they can tell you where nearest one is while you wait for ambulance."
Butchers who are not members of Scottish Craft Butchers but want to get involved can email  Save a Life Scotland at hello@savealife.scot.