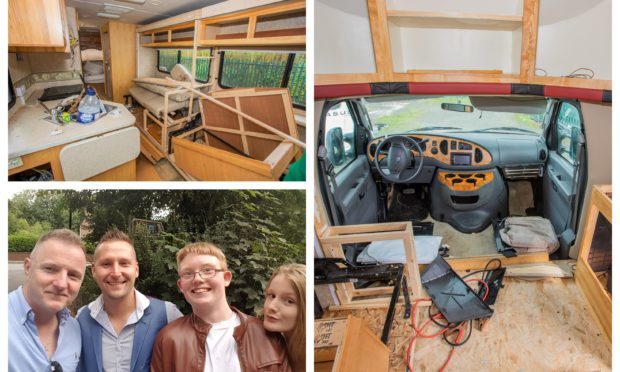 A devastated father-of-two says he spent thousands of pounds on a campvervan to take his children on holiday, only to have it destroyed by the person who was supposed to be upgrading it.
Crieff ambulance technician Ian Johnstone invested £35,000 in the motor home before shelling out another £17,000 to have the interior re-fitted.
He claims it has now been left completely gutted, without even a driver's seat, following a row with the carpenter he paid to do the work.
Ian's son Danny, 17, has Asperger's syndrome, epilepsy and non-organise developmental delay, meaning he has a mental age similar to a nine-year-old.
His 15-year-old sister, Amelie, is also in the process of being assessed for autism.
As both children struggle with unfamiliar places, Ian, 47, thought the campervan would be the perfect way to be able to take the teenagers on holiday, along with his partner Paul, while allowing them to keep their home comforts.
After paying £35,000 for the home on wheels, he decided to have it stripped out and renovated inside, to make it more suitable for his children's needs.
Four months and £16,800 later it is still a shell following a dispute with Comrie-based carpentry company RMA Furniture, owned by Mark Lynch.
Ian said: "When I explained what I wanted done to the carpenter, he came back with some really impressive drawings so I thought it was great.
"I gave him a £7,900 deposit and work started in April.
"Then he asked me for the second part of the payment but when I saw it in June he had ripped loads of it out and started to build units.
"He had hardly done any work at all, never mind the master carpentry he claimed to be able to do."
The men agreed the work would be finished by this month and weekly updates would be sent to Ian to show him photos of the progress.
But the updates quickly dried up and in emails seen by The Courier, Ian was accused of bullying and asked to fork out another £5,000 over and above what had already been agreed.
Eventually, he paid to have the campvervan towed away from the RMA workshop.
He has now been told the van is worth just £3,000 and repairs to make it usable will cost another £10,000.
"I was devastated when I saw it, it's absolutely trashed," Ian said.
"We don't even have a driver's seat in it anymore.
"I'm just so gutted for the kids because they were so excited about it."
The Courier made numerous attempts to contact RMA Furniture but received no response from the company.