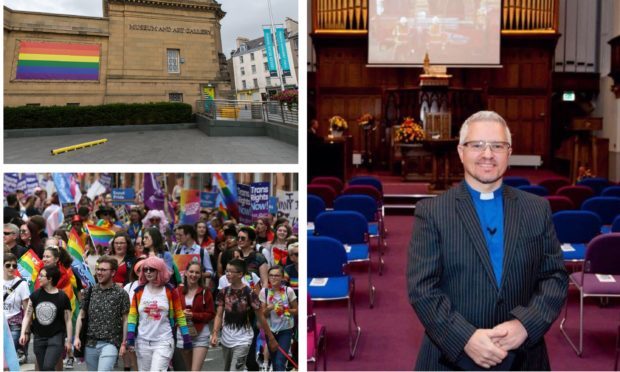 A Church of Scotland minister launched Perthshire's first LGBTQ+ Pride event with the words: "I am so sorry".
The Rev Scott Burton of St Matthew's Church apologised for the Kirk's historical treatment of the LGBTQ+ community.
He said he was honoured to open the inaugural Perthshire Pride celebration, which drew thousands of people to Perth Concert Hall plaza on Saturday.
But he revealed he suffered abuse on social media for supporting the cause.
Minister to apologise to LGBT community on behalf of the church at historic Perthshire Pride
Mr Burton, who kicked off a packed programme of live music, speeches, theatre and dance, told the crowd: "I'm elated and over the moon to speak today, not just because I personally find it a massive privilege, but because as a Christian minister I know only too well that at Pride events all over the world, it's often Christian people or religious people that stand with banners saying: Gay is Not the Way, or God Created Adam and Eve Not Adam and Steve.
"And today I want my first words to you to be: I'm so sorry for all of that."
He said: "If you are LGBT, you know that the Church that I belong to has hurt you, again and again.
"Because of what this LGBT community has suffered over time, I am amazed that the first person you have called to speak today is a clergyman.
"This shows the most amazing generosity and graciousness by the Perthshire Pride organising team."
Mr Burton, the first Church of Scotland minister to open an LGBT celebration, said that within hours of sharing his excitement for speaking at the event on Facebook, he received a private message from a follower.
It stated: "I have compassion for gays and I delight when one renounces their filthy lifestyle, but I have no time for 'fake' and that is what you are.
"Your stance is an expression of hatred to God. And when you… pretend to be a servant of God, you only condemn yourself."
Mr Scott said: "So there you have it: You in the LGBT community are filthy and I, as a Christian minister, am a fake.
"If you didn't laugh you would cry. And the trouble is many of us have cried and continue to cry."
A huge rainbow flag was raised above the plaza for the day-long event. A packed line-up included drag queens and an operatic sing-a-long of Disney showtunes.
Organisers also arranged scores of sales tables with support from local businesses and charities.