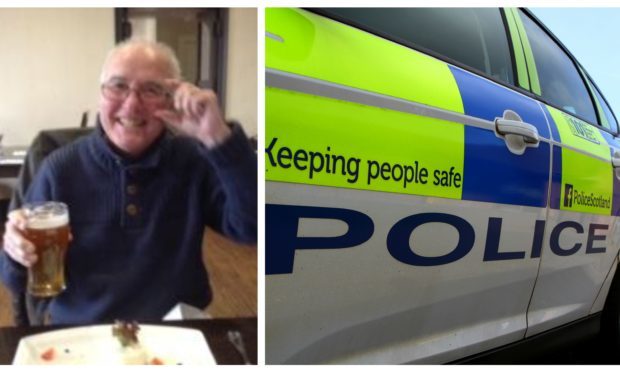 Police teams from throughout Scotland have joined the search for a missing pensioner in highland Perthshire.
Malcolm McGraw went out for a walk on Friday night and has not been seen since.
His family fear he may have fallen ill, after he stepped out without vital heart medication.
A search helicopter was deployed at the weekend to check for any trace of the 74-year-old in the countryside around his Pitlochry home.
The search continued yesterday with specialist officers and police dogs working through torrential downpours.
Mr McGraw's son Steve said the family fears he may have become disoriented while out walking at night.
He said: "We have had very little in the way of leads since the weekend, sadly.
"We know that he has not taken his medication with him. He has heart pills that he needs to take, so by this stage he might be quite unwell.
"Without his medication, we worry that he could be in a state of some distress."
He said: "The police have been absolutely fantastic throughout all of this. They have brought in police from all over the north of Scotland, from as far down as Alloa and as far north as Inverness.
"They have been very good at keeping us up-to-date and we can't thank them enough."
Mr McGraw worked overseas and retired back to Scotland about 12 years ago.
A keen walker, he left his home at about 11pm on Friday.
It is thought he may have walked along Dalcapon Road, towards East Haugh, or taken a back road towards Ballinluig.
It is believed that, at the time of his disappearance, he was wearing a maroon coloured V-neck sweater, with maroon checked shirt.
He may also have had a lightweight green jacket.
A force spokesman said: "Malcolm was last seen at 11pm on Friday, and was thought to be on foot.
"Unfortunately, we have had no confirmed sightings of him since then."
He added: "Malcolm is a keen walker and is known to walk the surrounding areas of Pitlochry. We have trained officers conducting extensive searches in the area, including his usual walking routes. We also have police dogs in the area assisting with the search."
Mr McGraw is described as white, about 5ft 7in tall, slim with grey hair and slightly balding.
Police Scotland said: "We would like to ask anyone who has any information which could assist us in our search for Malcolm, in particular if you believe you may have seen him, to call us on 101 or speak to any police officer."
The incident reference number is 1069 of August 11.