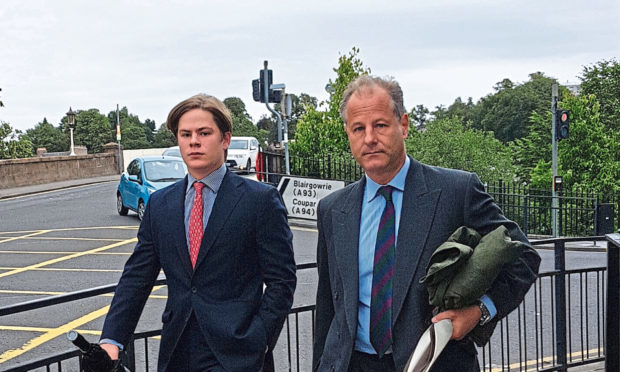 A teenage aristocrat who was clocked speeding through roadworks claimed he was over-excited because he was back in Scotland.
The Honourable Charles William Llewellyn Cadogan – whose family is worth £6.5 billion – said he put his foot down because he was close to the family's Perthshire estate.
The 19-year-old admitted speeding on the A9 Perth to Inverness road but escaped a ban after telling a court he had been told that his father, Viscount Chelsea, felt let down by his behaviour.
Cadogan, whose family is one of Britain's richest, was handed a £300 fine for speeding and given 28 days to pay. He had four points imposed on his licence.
The teenager admitted he was speeding when he was pulled over by police on the outskirts of Perth on June 27.
Cadogan – whose grandfather is the Earl of Cadogan – admitted driving at more than 71mph through roadworks on the A9 western bypass. The speed limit was 50mph.
The teenager, who was accompanied to court in Perth by his father, represented himself and handed a letter to the justice of the peace, pleading guilty.
"I write this letter of mitigation to apologise for the offence I have committed," it read. "I was driving from my home in London to my home in Scotland and the excitement of being close to home after a long drive perhaps led to a momentary blip of concentration in my speed for which there's no excuse.
"I believe I have learned my lesson due to the disappointment of my parents and the disappointment in myself having committed an offence like this.
"My deepest apologies go out to those I have troubled in my actions and the process of my offence.
"All I can ask is for forgiveness as everyone makes mistakes, especially at a young age."
Defending himself in the dock, he added: "It was irresponsible of me."
Depute fiscal Tina Dickie told the court: "The incident happened just before 2.15pm. Police were on mobile patrol. At the time major roadworks were being undertaken and a 50mph restriction was in place.
"The officers observed the accused's grey BMW travelling north and were of the opinion it was in excess of 50 mph. Police followed the accused and activated Vascar in their vehicle. His speed was detected as 71.42 mph."
The Earl of Cadogan made a fortune from property and owns swathes of high value land in Chelsea which has helped account for his fortune. He is richer than the Queen.
Cadogan was heading to the family estate at Snaigow in Perthshire when he was stopped by the police.